European Union Enlargement Commissioner Stefan Fuele has hailed Serbia's arrest of fugitive war crimes suspect Goran Hadzic. But he was quick to point out that this was not enough for Belgrade to achieve its coveted EU candidate status later this year.
The capture of Hadzic, who led Serb separatist forces during Croatia's 1991-95 war, came just two months after that of Ratko Mladic, the Bosnian-Serb commander. Hadzic is now likely to
join him shortly
at the International Criminal Tribunal for the former Yugoslavia (ICTY).
"I think [the arrest of Goran Hadzic] is splendid news and I think what is really great is that Serbs have delivered on their promise," Fuele said in an interview with RFE/RL shortly after the news broke. "After they apprehended Mladic, they made a commitment that they would not stop until the remaining fugitive was detained and was sent to The Hague."
The commissioner also maintained that Serbia's recent progress could spur on reforms throughout the western Balkans, setting several countries on a clear path towards the EU.
Enlargement Momentum
"[This is] something that is really important, not only for Serbia itself, but something that is important for the region, for reconciliation," he said. "It is something that is creating a part of what I have referred to from time to time as 'enlargement momentum' in the western Balkans in the second half of the year."
Croatia recently closed its negotiations to join the EU in mid-2013. Montenegro and the Former Yugoslav Republic of Macedonia, meanwhile, have already been granted EU candidate status.
The recent arrests have led many to believe that Belgrade is next in line to receive official recognition when the European Commission presents its yearly EU enlargement review in October.
Fuele, however, pointed out that Serbia must commit to other political reforms before receiving the green light.
"What our discussion is about is whether full cooperation with the ICTY and sending the remaining fugitive does the trick and in itself sort of generates a proposal from [the European Commission] to grant the candidate status," he said. "And my answer is absolutely clear: No."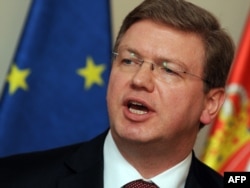 EU Enlargement Commissioner Stefan Fuele says Kosovo as one issue Serbia still has to resolve.
The reforms Serbia must complete are part of the "Copenhagen criteria," a set of guidelines concerning issues like the independence of the judiciary, media freedom and a friendly business environment. They are designed to facilitate a country's integration into the EU.
Fuele has indicated that he believes Serbia is committed to making the necessary changes. "The ball is on the Serbian side," he said. "I know that they are doing everything they could. I know that they [are not relying] only on sending the remaining fugitive to The Hague. I know that they understand that this is much more complex work."
With Belgrade's cooperation with the ICTY largely resolved and internal reforms underway, the main unresolved issue is Serbia's frosty relationship with Kosovo, which declared its independence from Serbia in 2008.
Belgrade-Pristina Dialogue
Serbia continues to refuse to recognize Kosovo, but there are nevertheless signs of a modest improvement in relations.
The EU-sponsored Belgrade-Pristina dialogue, which was initiated earlier this year, has facilitated the movement of people across the border. The two sides have also agreed on the mutual recognition of birth registries and university degrees.
There are also hopes that the two sides will agree on issues concerning electricity, telecommunications, cadastre books (land registries), and customs seals by September -- something that Fuele believes would boost Serbia's chances to become an EU candidate in October.
"I am very happy for some concrete results already achieved," he said. "I am happy to see that the people on the ground will be gradually given improved conditions for their lives but I know that in the pipeline there are more of these issues and I know that, on a number of them, there could be an agreement between Belgrade and Pristina."
The dialogue has so far not touched on the thorniest issue, the status of Kosovo.
And Fuele maintains that this is something which will need to happen before Serbia becomes an EU member.
"Serbia cannot become a member of the European Union without this issue being solved, beyond any doubt," he said. "And that's clear…it's up to Belgrade and Pristina's negotiations, with the assistance of the European Union, to bring such a solution."