BAKU -- The Eurovision Song Contest management has asked the Azerbaijani authorities to simplify visa regulations in the run-up to next year's contest in Baku, RFE/RL's Azerbaijani Service reports.
Eurovision Executive Supervisor Jon Ola Sand was speaking to RFE/RL in an exclusive interview on September 1, as the contest's governing body, the so-called Reference Group, met in Baku for the first time.
"It's paramount for us that during Eurovision weeks, people be able to come to Azerbaijan; the contestants, the delegations, journalists be able to come in and work freely," Sand said. "It is very important for us. We have asked the government to simplify the visa rules. It should be easy to come and work here."
Last October, the Azerbaijani authorities toughened visa regulations for foreigners. Until then, it was possible to obtain a visa on arrival at Baku airport.
The 57th Eurovision Song Contest will take place in Baku in May 2012 because Azerbaijan's Ell & Nikki duo won this year's contest in Duesseldorf, Germany.
Sand said the contest's governing body this week held talks with Ictimai (Public) TV, the co-organizers of the contest, and added they had very good meetings with first lady Mehriban Aliyeva, who heads Azerbaijan's Eurovision Organization Committee, and with the minister of youth and sports, Azad Rahimov, to discuss preparations.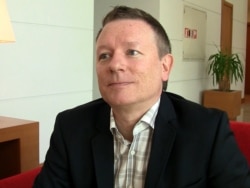 The executive supervisor of the Eurovision Song Contest, Jon Ola Sand
Sand said Eurovision is a huge chance for every broadcaster, and he has no doubts that Azerbaijan will organize a good contest.
Sand said the precise venue for the competition has not yet been decided. "We have several options; we've been shown several options. All are on the table, and we have not decided yet. It's too early to take a decision," he said.
Dozens of residents have recently been relocated from the area near Flag Square, where locals say a Eurovision arena is being built.
European Broadcasting Union Is 'Non-Political'
"We are not involved in any construction work and we have not asked them to build any stadium. The stadium is being built by the Azerbaijani government. We have not approved it, it's not really connected with the Eurovision Song Contest. We haven't ordered any demolition work," Sand said.
Asked whether the European Broadcasting Union (EBU), Eurovision's parent organization, follows developments in Azerbaijan, including the release of journalist Eynulla Fatullayev immediately after Azerbaijan won the right to host the contest, Sand said:
"The EBU is a non-political organization. But we are a media organization. We'll always speak for our members to gain the freedom they need. The Eurovision Song Contest is a non-political program. But if the Eurovision Song Contest can help to improve anything in the Azerbaijani society, I would be happy."
As to whether authoritarian Belarus could host the 2013 Eurovision Song Contest in the event that it wins in Baku, Sand said:
"Last year we had a junior Eurovision Song Contest in Belarus. We already have experience of working in that area. This contest is about the members, not the presidents. If Belarus wins the contest, we'll go there. But it's paramount for us that we gain the rights we need for the Eurovision Song Contest when it comes to freedom of speech, basic human rights issues."
The final of the 2012 Eurovision Song Contest is scheduled to take place on May 26, following two semifinals on May 22 and 24. Some 40 countries are expected to participate, several of which have already started their search for their national entry.
Read more in Azeri here