Afghanistan's ties with its neighbor Pakistan have become severely strained lately, with both sides engaging in a war of words and cross-border violence.
At the forefront of those tensions is a long-standing dispute over the demarcation of their contested border.
The latest controversy involves a border outpost, a checkpoint, and other installations recently built by Pakistan. The facilities were constructed along the edge of Goshta district, which is located in Afghanistan's eastern Nangarhar Province.
Kabul has demanded that Islamabad remove the installations, saying they encroach on Afghan territory. Pakistan counters that its new fortifications are on its side of the border.
The controversial border posts have rekindled the thorny issue of the Durand Line, a border agreed to by the British and Afghan Amir Abdur Rahman Khan in the late 19th century.
Pakistan, which shed its status as part of British India more than 65 years ago, considers the line to be an international border, as does the majority of the international community. But Afghanistan has never recognized the porous frontier, which cuts through the ethnic Pashtun heartland.
The simmering tensions boiled over on May 2, when Afghan border police in Goshta district opened fire and destroyed parts of the newly built installations. Afghan forces said they had noticed Pakistani troops starting additional work on the outpost, despite recent agreements to halt construction.
An Afghan border guard was reportedly killed and three others injured during a six-hour clash with Pakistani troops. Pakistani authorities said that two of its security personnel were wounded in the skirmish.
Blame Game
Each side has blamed the other for sparking the incident, which took place along a crucial battleground in the fight against Taliban and Al-Qaeda-linked militants that operate on both sides of the border.
In April, Afghan President Hamid Karzai ordered Afghan troops to "take immediate measures" to remove the installations near Goshta district. Karzai has maintained that activities by either side along the Durand Line must be approved by both countries.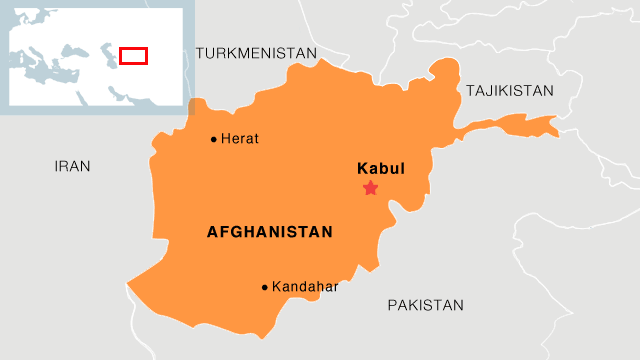 Scroll over map to see the Durand Line
An Afghan Defense Ministry spokesman has claimed that the post is up to 30 kilometers inside Afghan territory. He has suggested that "all options" are open in Kabul to ensure the installations are removed.
Karzai has directed his Foreign, Interior, and Defense ministries to ask for clarification from the U.S.-led coalition for "assisting and supporting Pakistan to build these installations," according to a statement from the president's office.
Abdul Karim Khurram, the president's chief of staff, revealed on April 29 that Karzai has sent a letter to U.S. President Barack Obama to seek his help in retaking nearly a dozen border posts the Afghan president's office believes Pakistani forces have unjustly occupied in the past decade.
Khurram said Karzai, who sent the letter on April 15, accused the NATO-led International Security Assistance Force (ISAF) of handing military posts it had built along the border over to Pakistani forces.
"When ISAF and coalition troops arrived in Afghanistan, they took these check posts and centers," the BBC and "Afghanistan Times" quoted Khurram as saying. "[The ISAF] paved the way for the Pakistani military to occupy these posts after they evacuated the posts. It shows some U.S. interference on the issue. Considering the U.S.-Afghan long-term strategic pact, Karzai sent a letter to Obama."
Mass Protests
The dispute in Nangarhar has led to mass protests against Pakistan. For the last few weeks, the streets of the provincial capital, Jalalabad, have been lined with demonstrators chanting anti-Pakistan slogans and demanding military action by the Afghan government.
Protesters have also demanded that Nangarhar Governor Gul Agha Sherzai, whom they have accused of treason, be dismissed immediately. The calls came after lawmakers said Sherzai failed to inform them of Pakistan's activity along the border and accused him of not doing enough to stop the construction of border installations.
In retaliation, Pakistan on April 30 closed its border crossing with Afghanistan along the highway linking Kabul and Islamabad. A Pakistani border official said the closure was ordered because an Afghan border guard fought with a Pakistani official.
That came a day after Islamabad tightened entry requirements in connection with Pakistan's May 11 general elections, ordering that only Afghans with valid documents be allowed to cross into Pakistan. Before the measure, crossing the border without travel documents was routine.
Afghan claims that Pakistan is trying to thwart efforts to begin reconciliation talks with the Taliban have also fueled souring relations.
Afghanistan has grown increasingly frustrated with Pakistan, saying Islamabad is not fulfilling its promises regarding the peace process. Kabul has suggested that Islamabad is seeking to keep Afghanistan unstable until foreign combat forces leave at the end of 2014.
Afghanistan has long accused Pakistan of providing sanctuary to Afghan insurgents on its soil. Pakistan denies this and says that Pakistani Taliban routinely seek shelter on the Afghan side of the border.