WATCH: RFE/RL's correspondent captured images of one fatality and other scenes from the immediate aftermath of the blast. (Warning: graphic images)By RFE/RL
Belarusian authorities have vowed to hunt down the perpetrators of an explosion in a subway station in the capital, Minsk, that killed at least 12 people.
In another development, it has been announced that April 13 will be an official day of mourning for the victims of the explosion.
Prosecutors have described the blast as a "terrorist act" but have offered no further details.
The interior minister was quoted as saying the blast was caused by an explosive device packed with metal fragments and with a force equivalent to 5 to 7 kilograms of TNT. The device was apparently hidden under a bench on the platform of the subway station.
The explosion went off at around 6 p.m. April 11 at the Kastrychnitskaya (October Square) station, which is located less than 100 meters of the Belarus presidential administration building.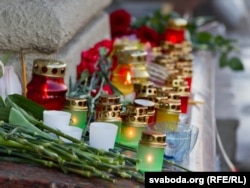 Minsk residents placed candles near the Kastrychnitskaya subway station to remember the victims. A day of mourning has been called for April 13.
There has been no claim of responsibility. Police are reported to have placed Minsk on high alert to guard against possible other attacks.
President Alyaksandr Lukashenka called the explosion an attempt to destabilize the country and did not rule out the involvement of foreigners, calling the blast a "gift" that "could have been brought from outside."
"Men, you see the challenge is thrown down to us and we have to understand -- it is a very serious challenge," he said in televised remarks. "We have to give an adequate answer. And this answer has to be found."
Lukashenka appealed to Belarusians to help investigators determine who carried out the explosion.
The president also speculated the explosion could be linked to a 2008 blast. In July of that year, a bomb blast at a concert attended by Lukashenka injured about 50 people in Minsk. No arrests in that case have been reported.
A man who gave only his first name, Henadz, told RFE/RL's Belarus Service that he was unsure whether the explosion had struck a train or the platform.
PHOTO GALLERY -- Images of the bombing and its aftermath:
An RFE/RL correspondent who was entering the subway when she heard the explosion, Valyantsina Aksak, reported seeing fire and the subway station pitched into darkness.
She said she saw "corpses" and people trying to help victims whose clothes were on fire.
WATCH: Video posted to YouTube of the scene at Kastrychnitskaya subway station in Minsk in the moments after the explosion. (Warning: graphic images)
Aksak said there were many commuters at the station when the explosion hit. She said there was general panic as people tried to figure out what had happened.
"Those who were near the explosion rushed to the opposite exit and many of them were on fire," Aksak said. "I saw several people who were simply pillars of fire."
Tensions have been rising in Belarus since December 19, when a massive demonstration against Lukashenka's landslide reelection sparked a crackdown by police in which more than 700 people were arrested, including seven presidential candidates.
based on reporting by RFE/RL's Belarus and Russian services, with additional agency material