Witnesses and activists say Syrian troops opened fire on protesters today in and around the flashpoint city of Daraa, as thousands massed to demand reforms and mourn dozens killed in earlier demonstrations.
A resident of the city told the Associated Press that troops began shooting after crowds set fire to a bronze statue of the country's late president, Hafez al-Assad, the father of Syria's current president, Bashar al-Assad.
Reports also said more than 10 were killed when troops fired on people coming toward Daraa from nearby regions to support the people inside the city.
The violence ensued after tens of thousands of Syrians took to the streets in all corners of the country, despite the authorities' efforts over the past 24 hours to both frighten and coax protestors not to demonstrate.
There were also reports of smaller pro-government rallies.
'Day Of Dignity'
Antigovernment demonstrators had called for a "Day of Dignity" after yesterday's funeral procession, which brought some 20,000 people into the streets to shout against the government.
The mourners on Thursday bore the coffins of nine people killed when security forces opened fire on protestors in Daraa on Wednesday. The main city hospital said it received the bodies of at least 37 protestors after the shooting, bringing the total number of people killed since unrest began a week ago in Daraa to at least 44.
Rattled by the unrest, President Assad on March 24 made a rare public romise to "study" ending the emergency law, which has been in place for nearly five decades.
Assad also ordered a 20 to 30 percent salary hike for public employees across Syria, and his Ba'ath Party announced it will draft laws to provide for media freedoms and look at allowing other political movements.
Mohammad al-Abdallah, a Syrian human rights activist based in Washington, told RFE/RL the protests are gaining momentum and spreading to new parts of the country. He said the president's concessions were too late.
"I think it's a little too late because after [President Assad] ordered his forces to open fire and use live ammunition against people, now there are dead bodies and nobody can return those," he said.
Western countries have condemned today's violence.
UN Secretary General Ban Ki-moon called for "maximum restraint" in a telephone call with President Assad.
Yemen Unrest Continues
The wave of antigovernment protests seen in much of the Arab world of late also showed no signs of dying out in Yemen.
Protesters on March 25 staged what they called a "Day of Departure" demonstration to demand the resignation of President Ali Abdullah Saleh after 32 years of rule.
But tens of thousands of government supports also gathered in the capital, Sanaa.
President Saleh told a cheering crowd that he was ready to hand over power, but only to "safe hands."
"We will stand firm with you ... steadfast in the face of all challenges," he said. He also said he had no personal desire for power but refused to hand it over to "corrupt and hateful hands" -- as he dubbed his opponents.
Saleh has previously offered to leave office early -- but only after organizing parliamentary or presidential elections to be conducted by January 2012. The opposition rejected that offer as "insincere."
Tens of thousands of antigovernment protesters thronged the main square near Sanaa University where they have been camped since February 21. The protesters massed despite the government's deployment of troops on roads leading to Sanaa to prevent demonstrators reaching the city from outside.
At one point, Saleh's supporters appeared ready to march against the protesters near the university but were turned back by soldiers firing warning shots over their heads. There were no immediate reports of casualties at the demonstrations.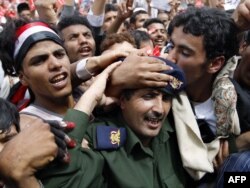 An army soldier who defected is cheered by protesters during a demonstration against Yemeni President Saleh in Sanaa on March 25.
On March 24, Saleh challenged his opponents to come to the table for talks or bear responsibility for any bloodshed.
"Come for a political dialogue and we will transfer authority peacefully, by constitutional means," he said. "[But] you will take full responsibility if blood is shed."
Today's protests come after security forces shot dead more than 40 demonstrators in Sanaa on March 18. But that bloodshed seemed to only increase defections from Saleh's own military and among key tribal leaders to the opposition camp.
One top general who defected to the opposition, Ali Mohsen al-Ahmar, held talks with Saleh today, but sources close to both sides said the meeting failed to reach a deal to defuse the crisis in the country.
written with RFE/RL and agency reporting