ICC Seeks War-Crimes Probe Into 2008 Georgia-Russia War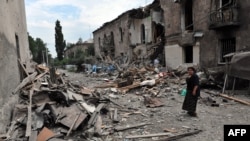 The International Criminal Court (ICC) says its prosecutor plans to investigate possible war crimes or crimes against humanity committed in the 2008 military conflict between Russia and Georgia.
In a statement, the ICC said Prosecutor Fatou Bensouda had concluded that there was a "reasonable basis to believe" crimes were committed during the five-day conflict over the breakaway Georgian region of South Ossetia, which Russia has recognized as an independent country.
The request by Bensouda must be approved by The Hague-based court's judges.
A favorable decision by the judges would pit non-ICC member Russia versus the European-backed global war crimes court at a time of high East-West tensions over the conflicts in Ukraine and Syria.
The Hague-based court is already considering whether to open an investigation into crimes committed in eastern Ukraine, where Russian-backed separatists have been fighting Ukrainian government forces since March 2014.
An investigation of the Georgia-Russia conflict would probe possible war crimes or crimes against humanity committed by both sides in the August 2008 fighting.
Hundreds of people died and thousands were displaced in the conflict.
The watchdog Human Rights Watch said in 2009 that it had found evidence of crimes having been committed by both sides in the conflict.
The ICC was established in 2002 to investigate the most serious international crimes.
Based on reporting Reuters and AFP