Iranian President Mamud Ahmadinejad today rejected criticism from nearby Arab states that accused Tehran or "blatant interference" in the internal affairs of Kuwait and Bahrain.
Ahmadinejad said criticism on April 3 by the six-member Gulf Cooperation Council was the result of pressure from the United States and its allies.
The Gulf Cooperation Council -- a mostly Sunni bloc -- said after an emergency meeting in Riyadh that Iran was trying to stoke sectarian division in Bahrain. It also condemned what it called "blatant Iranian interference in Kuwait" -- accusing Tehran of setting up a spy network in Kuwait.
Iran, a mostly Shi'ite country, had earlier criticized Saudi Arabia for sending troops to Bahrain to support the government in confrontations with protesters and alleged Iranian interference there.
The troops are part of the Peninsula Shield Force, a Gulf Cooperation Council military coalition established to protect the six member states from outside attack.
compiled from agency reports
Liveblog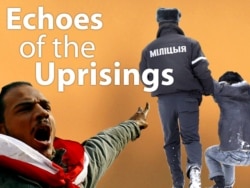 Tracking events and ideas convulsing the Arab world and with ripples around the globe, including RFE/RL's broadcast region.
Click here