As Libyan leader Muammar Qaddafi's troops near the eastern city of Benghazi, the mood in the country's last major opposition stronghold is a mix of hope and fear.
RFE/RL correspondent Charles Recknagel talked with the head of Voice of America's Cairo bureau, Elizabeth Arrott, who has just returned from the city.
RFE/RL: What is the popular mood in Benghazi?

Elizabeth Arrott:
One thing you see is large crowds that gather around the courthouse in Benghazi, which is the seat of this provisional government that has been set up, the National Council. And people come out every day and even as the Qaddafi troops get closer and closer, people are still coming out to show their support. They have rallies, they have talks, they speak about the people who have died in fighting the Qaddafi troops, and it still seems quite strong despite what seems to be the turn of events.
RFE/RL: How do people there feel about the international community's response to their cause?

Arrott:
I am afraid that some people are quite disappointed, that they had hoped that the no-fly zone would have been put in place a couple of weeks ago, because at this point it really wouldn't do much good. The fight is being played out on these roads, on a strip of highway that is very easy to advance upon, in most places it has just been open desert, so it is very easy just with tanks to push these rebels back.
I am afraid that some people are quite disappointed, that they had hoped that the no-fly zone would have been put in place a couple of weeks ago, because at this point it really wouldn't do much good.
And you can see in the way that they congregate their defenses, they tend to stay in groups with all their armament close together, that the rebels are not terribly well versed in the strategy and tactics of war, that they are very vulnerable.
Now that said, they do hope that the international community will at this point come forward with a no-drive kind of policy that will perhaps break up or bomb or do something to the highways that would make it more difficult for the Qaddafi forces to advance upon the rebel areas.
Provisional Government

RFE/RL: How visible is the provisional government in Benghazi's life? How much of a functioning mini-state have they created?

Arrott:
They stress that they don't claim to be the new government, that they are just trying to organize things in the interim. They have city councils, various local councils that are organized around various services and they all report, there is a funneling effect, up to the top.
Daily life in Benghazi has been fairly normal, things are working, there haven't been great shortages.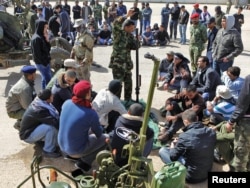 Rebels teach volunteers how to use weapons at a base in Benghazi.
As far as basic services, water, electricity, all the infrastructure is still working. One problem is security because everything was run by the government, by the Qaddafi forces, so when they disappeared you had this real lawlessness in the area.
People have been quite well-behaved, there has not been much looting, security is more self-government at this point and, certainly, there is a lot of gunfire in the evening and it was hard to know if that was celebratory, and there was some street crime in some areas. But given that it was the complete collapse of an omnipresent state, [Benghazi] seemed to be holding itself together quite well.
RFE/RL: Is the provisional government's support due to tribal or local affiliations and ties or is it wider than that?

Arrott:
It is hard to say exactly what interest people have in this new government. or the representatives of the new government. But they are bound by their general antipathy for Colonel Qaddafi and that is the strongest tie.
What they all want in the future, if the rebellion were to succeed, is less clear. They have put forward manifestos broadly talking about democracy, more representation, but whether or not that would translate to all the disparate groups that you mention -- the tribes and various cities have very different backgrounds -- whether they could form a cohesive whole in the long run is yet to be seen.
If Benghazi Falls...

RFE/RL: What is your sense of what will happen if Benghazi is attacked?

Arrott:
It would be very hard to say, it would depend on the kind of attack. The Qaddafi forces have dropped leaflets saying, "Surrender now and you will get amnesty," so that could be a little bit unnerving.
These are people who, most of them, for their entire life have been under the threat of the capriciousness of the government in being able to be imprisoned on virtually no charge and to disappear. So it is a really terrifying prospect that many of these people who went out publicly, were shown on television denouncing the leadership, they are in extraordinary danger.
Some of them talk about fighting to the death, that there is no room for compromise that they can't possibly go back now; other people I am sure would just be willing just to try to survive and carry on as best as they can, while others would like to get out.
It is unnerving right now because as the government forces are fighting for the city of Ajdabiyah, it is at a crossroads where there are two highways, one that hugs the coast and the other that cuts across the desert to Tobruk. If the government forces were able to get control of that place, they could then go across the desert to the east and circle back around on Benghazi, effectively cutting it off.
RFE/RL: Have people been staying put as rebels lose ground on the way to Benghazi, or are some people already sending out their families or leaving themselves?

Arrott:
Certainly when [Qaddafi] was moving up from Ra's Lanuf and then other little towns along the highway, residents were coming out and sadly some families were killed by air strikes on their way to try to get to safer places. Most of the people who wanted to get out got out early. And certainly all the foreign workers left and we have seen that on the borders, this mass exodus of migrant workers and other people.
And I think, again, given how difficult the situation is becoming, just by the hour even, as I mentioned about the roads, I think more and more people will perhaps be trying to find a safe exit given the consequences if the city is recaptured.
Liveblog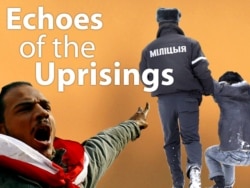 Tracking events and ideas convulsing the Arab world and with ripples around the globe, including RFE/RL's broadcast region.
Click here