KHABAROVSK, Russia -- Just kilometers from the border with China, ground zero of the new coronavirus spreading across the globe, the Far East Russian region of Khabarovsk shows few outward signs of being in the grip of panic.

Outside the city's main train station, Khabarovsk-1, few if any passersby can be spotted wearing a protective mask, despite local authorities requiring them among anyone in the city of more than 500,000 whose work puts them in contact with others.

Inside the station, where a supervisor says such masks are mandatory for employees, at least one worker is not wearing his.

"I was late to work today so I didn't have time to pick up a mask," said Aleksandr Bazhenov, who works in the luggage-storage section of the station, adding that he thinks they are pointless. "I really don't know what they're needed for."

No cases of the virus have been recorded in Khabarovsk, but the effect the epidemic is having locally is evident, particularly among hotel owners and others dependent on Chinese tourists who vanished once direct flights to China were suspended. Others say xenophobia is on the rise in the city, especially after some 20 Chinese tourists were quarantined after a flight from Korea.

Worries about infection and containment have spread across the globe as each new day brings fresh reports of coronavirus infections. As of February 26, the coronavirus has infected more than 80,000 people globally, causing over 2,700 deaths, mainly in China. The World Health Organization has named the resulting illness COVID-19.

Russia reported its first two cases of coronavirus -- both Chinese nationals -- on January 21. The two cases were registered in the Zabaikalye region, which lies just over 1,000 kilometers west of Khabarovsk and also borders China, and in the Tyumen region bordering Kazakhstan, said Russian Deputy Prime Minister Tatyana Golikova.
The two later recovered and have been discharged. Three Russian nationals are receiving treatment in Russia after contracting the coronavirus on a cruise ship in Japan, authorities have said.

Beyond the risks to human health, the coronavirus is likely to blunt global economic growth, especially given China's rising role as an engine of growth. And for Russia those risks could be greater.

Russia has fostered closer ties with China since relations with the West went south after Moscow seized Ukraine's Crimean Peninsula in March 2014 and began backing separatists in eastern Ukraine shortly thereafter in a conflict that has killed more than 13,000. China is now Russia's top trade partner. Turnover between the two amounted to $100 billion in 2018.

But on January 31, Russia closed its more than 4,000-kilometer-long border with China, shutting 16 border crossings.
Millions Of Dollars Lost

Russian Finance Minister Anton Siluanov told the RBC news website on February 20 that the coronavirus had caused a drop in Chinese trade with Russia of 1 billion rubles ($15.68 million) a day.

In late January, Russia announced it was suspending a visa-free travel program for Chinese tourists, the biggest driver of growth for Russia's tourist industry since 2015. The Association of Tour Operators of Russia, a tourism lobbying group, said Russia could lose $100 million from the restrictions, and an extra $10 million from Russian tourists cancelling or postponing trips to China.

Russia's Foreign Ministry also announced that it had stopped issuing electronic visas to Chinese nationals, suspending a special permit that gives tourists short-term access to St Petersburg, the Baltic Sea exclave of Kaliningrad, and parts of the country's Far East.

In Khabarovsk, tourism in general and the hotel industry in particular are suffering, according to Valentina Aseyeva, head of a local travel agency and member of the board of the Russian Union of Travel Industry.

"The last flight to China from Khabarovsk took off at the end of January. As of today, six flight routes have been canceled, and that is 320 people a week," Aseyeva recently told the Siberia Desk of RFE/RL's Russian Service.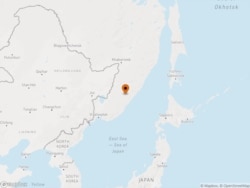 The travel ban has caused a headache for Chinese nationals either vacationing or working in Russia, Aseyeva explained.

"Right now it's possible for those who live or work in China" to visit the Far East, said Aseyeva, but it isn't easy.

"For example, there were people here who arrived in Khabarovsk only for vacation and on February 10 should have flown back to Harbin. From Khabarovsk to Harbin it's a one-hour, forty-minute flight. But due to the ban, Aeroflot changed their tickets to the route -- Khabarovsk to Moscow, and then Moscow to Beijing. And in Beijing, they had to pay even more to get to Harbin."
Xenophobic Comments

Some Chinese nationals with residence permits in Russia arrive via daily flights from Thailand, Korea, Vietnam, and Japan that operate normally in Khabarovsk.

Earlier this month, 24 Chinese citizens arriving from Seoul were taken directly from the plane to a sports complex on the outskirts of the city where they were to be quarantined for 14 days. All tested negative for the coronavirus, but that episode sparked fear and even xenophobia, judging by comments on social media and Internet forums.

"Well, 24 were housed, they gave them a place to sleep and fed them for two weeks, and in a minute there will be more than a billion; they will come in by the thousands and we will feed them all for two weeks?... Let them fly back with their viruses. They aren't needed here, both those ill and healthy," wrote someone identifying themselves as Artem on the comments section of a news article on February 7 reporting the quarantining of 24 Chinese.
Days after that report, on February 10, local authorities changed from recommending to requiring the wearing of protective masks for all workers who come into contact with people during their job.
As was the case at the Khabarovsk-1 train station, the rule on masks was being openly flouted by many in the city.

Timofei Shipilov, a colleague of Bazhenov's at the train station, does comply -- albeit grudgingly.

"The virus works like this: It is spread by coughing, by airborne droplets," says Shipilov, naming one of ways of transmission identified by World Health Organization. "And these masks don't fit snugly. And when we inspect things, bags and such, we come into direct contact with people anyway. We won't be saved by the masks. You touch clothes, things in the bag to check whether there is anything forbidden. So, what can masks do? They're only for show, if needed at all."
They are in demand, nevertheless. City officials, in acknowledging that masks are in short supply, have blamed "speculators."

"The problem with the supply of masks in Khabarovsk pharmacies is being caused not only because of increased demand, but also by attempts to speculate in scarce goods. The fact is that 'certain structures' are buying at wholesale personal protective equipment for further resale at a markup or even export to China… In warehouses in Khabarovsk three weeks ago there were some half a million masks. A week later, the products were already sold out," Khabarovsk's Health Ministry branch said earlier this month.
Skyrocketing Prices

Not only masks are hard to come by. The closing of the border with China meant fruits and vegetables -- many of which are imported from Russia's eastern neighbor -- also became scarce as prices skyrocketed. In just one day, the price of cucumbers, a staple for most Russians, more than doubled. Others suspect unscrupulous sellers of exploiting the situation to jack up prices on other things.

"Why did the price of ferns rise," asked an irritated Zhanna. "This is a local product, from the Far East. What, the virus did something to it?"

RFE/RL's correspondent reporting from Khabarovsk said that prices did recover somewhat after authorities recently reallowed the import of fruits and vegetables from China, but prices have not returned to their pre-coronavirus levels.

While resentment and even xenophobia appears to have arisen during the epidemic, Aseyeva said that an online forum on WeChat has been created to show support for China, a sentiment that she feels remains abundant in Khabarovsk despite the signs to the contrary.

"It seems to me that our country is tolerant of the Chinese," Aseyeva said. "How can you hate them or feel indifferent?" she asked, noting the measures taken by the Chinese authorities to stem the spread of the virus.
Written by RFE/RL correspondent Tony Wesolowsky based on reporting by Yekaterina Vasyukova, a correspondent with the Siberia Desk of RFE/RL's Russian Service