BISHKEK -- An exhibition has opened in Bishkek of paintings by a prominent ethnic Uzbek rights activist jailed over last year's deadly violence in southern Kyrgyzstan, RFE/RL's Kyrgyz Service reports.
Azimjan Askarov is serving a life sentence after being found guilty in September of organizing ethnic clashes between local Uzbeks and Kyrgyz in June 2010 and of involvement in the murder of a policeman.
Askarov's wife brought 50 of her husband's paintings to Bishkek for the exhibition, which the Bishkek-based human rights organizations Center for Democracy Development, Citizens against Corruption, and Torch of the Century helped his relatives organize.
The exhibition is entitled The World of Human Rights Defender and Artist Azimjan Askarov.
Askarov graduated from art school in Tashkent in 1977. His paintings mainly depict the inhabitants of the Fergana valley and scenes from their everyday lives.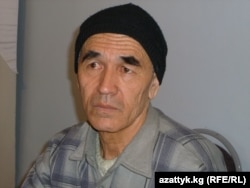 Azimjan Askarov says he was jailed solely because of his activities as a human rights activist.
Human rights groups in Kyrgyzstan and abroad have criticized Askarov's trial and sentence. In March, the Czech NGO People In Need designated Askarov the recipient of its annual Homo Homini prize, awarded "for dedication to the promotion of human rights, democracy, and nonviolent solutions to political conflicts."
Askarov has said he was jailed solely because of his professional activities as a human rights activist, which focused on prison conditions and the police treatment of detainees.
He had also reportedly been documenting the killings and arson attacks in southern Kyrgyzstan in June last year, which primarily targeted ethnic Uzbeks and left more than 400 people dead.
Read more in Kyrgyz
here