BISHKEK -- A prominent ethnic Uzbek rights activist jailed over last year's deadly violence in southern Kyrgyzstan has told RFE/RL's Kyrgyz Service he was jailed for speaking the truth.
Azimjan Askarov is serving a life sentence after being found guilty in September of organizing ethnic clashes and of involvement in the murder of a policeman last summer.
Human rights groups in Kyrgyzstan and abroad have criticized the trial and sentence, and last week the Czech NGO People In Need made Askarov the recipient of its annual Homo Homini prize, awarded "for dedication to the promotion of human rights, democracy, and nonviolent solutions to political conflicts."
Askarov on March 15 gave his first interview since receiving that award to an RFE/RL correspondent who visited him in prison on the southwestern outskirts of the capital, Bishkek.
"I wept when I heard" the news of the award on the radio, he said.
Askarov said he was sentenced solely because of his professional activities as a human rights activist.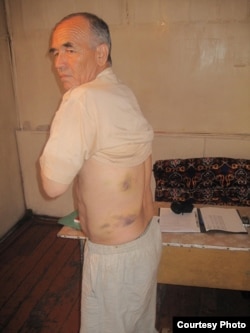 Azimjan Askarov: "They beat me repeatedly."
"For my ideas, for my just ideas, I am in jail," Askarov said. "Because I spoke the truth, I had the opportunity to criticize openly officials, prosecutors, and courts, police, and police chiefs."
Warned Authorities
Askarov is the head of the local human rights group Vozdukh (Air), and his activism in recent years has focused on prison conditions and police treatment of detainees.
He had reportedly been documenting the killings and arson attacks in southern Kyrgyzstan in June that targeted primarily ethnic Uzbeks and led to the deaths of more than 400 people.
In his interview, Askarov said those clashes had been planned in advance and that local law enforcement officials may have been informed beforehand about the imminent violence.
Askarov told RFE/RL that he and prominent Kyrgyz human rights defender Aziza Abdyrasulova informed the authorities in Bazar-Korgon district in May that huge quantities of weapons had been illegally brought to the region.
"One of the security officers confirmed that fact during the second investigation of my case," Askarov said.
Askarov also said that he was beaten in custody during the investigation of his case.
A photo taken by his lawyers last year, which showed his back badly bruised, had raised fears that Askarov might have been mistreated in custody.
The authorities denied claims he had been mistreated, and Askarov himself at his trial rejected the allegations.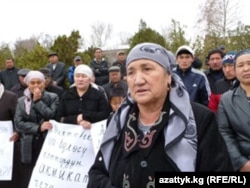 A rally In Bazar-Korgon against Askarov's possible release
But on March 15 he said: "During the investigations they beat me repeatedly and as a result, all the bones of the left side of my body hurt. I cannot lie on my back. As for the pills I need, my friends have been helping me with that."
'Keep Activist In Jail'
Askarov, who is a Kyrgyz citizen, has appealed his sentence, and his recent Czech human rights award has prompted some detractors to speculate he might be released.
On March 15, some 100 protesters rallied in Bazar-Korgon to demand that Askarov remain in jail, saying his release would be "unacceptable and wrong."
They chanted, "Justice for slain policeman Myktybek Sulaimanov!" and called on rights activists Abdyrasulova and Tolekan Ismailova to stop defending Askarov.
Read more in Russian
here