WATCH: Japanese television images of NHK World TV headquarters during the initial earthquake and destruction as tsunami waters roll across the Japanese countryside. (Reuters video)

Japanese officials say they fear that more than 1,000 people may have been killed in the 8.9-magnitude earthquake and subsequent tsunami waves that swept away thousands of houses, cars and boats on the country's northeastern coast.

Concerns also remain high about two nuclear power plants in Fukushima prefecture, where reactors have suffered cooling system failures and elevated radiation levels have been detected.

An official with Japan's nuclear safety commission was quoted as saying that a reactor meltdown remains possible at the Fukushima Dai-ichi power plant. Thousands of people have been evacuated from areas around the two plants.

A massive rescue and clean-up effort is now under way in the wake of the March 11 temblor, which has been described as the fifth most powerful earthquake to strike the world in the past century.

Though the full extent of casualties and damage is not yet clear, Chief Cabinet Secretary Yukio Edano said it was believed that more than 1,000 people have lost their lives.

Reports say more than 600 people have been confirmed killed so far, with more than 200 bodies reportedly found in the devastated northeastern coastal city of Sendai.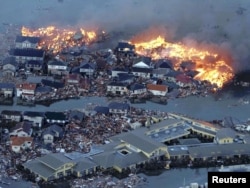 Houses swept out to sea burn following a tsunami and earthquake in Natori City.
According to the U.S. Geological Survey, the quake ruptured a patch of the earth's crust some 240 kilometers long and 80 kilometers across.
More than 50 powerful aftershocks, including many above 6.0 magnitude, caused devastation and sparked fires in several areas along the coast, including in the capital, Tokyo.
Tsunami waves spawned by the quake struck Indonesia, Taiwan, the Phlippines, Russia's Far East, and Hawaii, but there are reports of major damage or casualties. By mid-morning local time, waves also reached the western coast of the U.S. mainland.
Governments across the region -- from Russia to Chile -- ordered residents to evacuate coastal areas in anticipation of tsunami waves.
Dozens of boats were reported crushed in California's Crescent City, more than 11,000 kilometers away from Japan.
Sadia Kaenzig, a senior communications adviser at the International Federation of the Red Cross and Red Crescent Societies in Geneva, told RFE/RL that her organization was especially concerned for developing countries across the Pacific that do not necessarily have the adequate prevention or response mechanisms in place.
Small, low-laying Pacific islands were of particular concern.
The quake struck at a depth of 10 kilometers some 125 kilometers off Japan's eastern coast.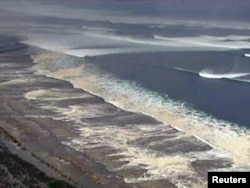 Tsunami waters engulf Sendai.
In Tokyo, some 400 kilometers to the south, buildings shook, trains were halted and the main airport was closed.
TV pictures showed a major fire engulfing an oil refinery near Tokyo and reports said firms such as Sony, Toyota, and Mitsubishi Chemical also shut factories.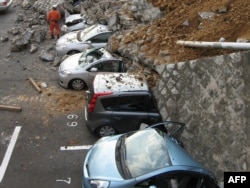 Vehicles are crushed by a collapsed wall at a car park in Mito city in Ibaraki prefecture.
World: 'Shocked And Saddened'
The United Nations said it has 62 international disaster response teams on alert. Late in the day, the UN announced that Japan had requested search and rescue help.
UN Secretary-General Ban Ki-moon said "the world is shocked and saddened by the images coming from Japan this morning." He expressed his "deepest sympathies" to the Japanese people and government and to those who had lost family and friends in the earthquake and subsequent tsunami.
More than 45 countries, including United States, many European nations, China, India, and Pakistan, have also pledged assistance to Japan.
U.S. President Barack Obama said he was "heart-broken" by what he called a "potentially catastrophic disaster."
"Japan is, of course, one of our strongest and closest allies. And this morning, I spoke with Prime Minister Kan. On behalf of the American people, I conveyed our deepest condolences, especially to the victims and their families, and I offered our Japanese friends whatever assistance is needed," he said.
The World Bank has also said it is ready to "mobilize" help.
Earthquakes are common in Japan, one of the world's most seismically active areas.
A 7.2 magnitude quake -- significantly smaller than today's -- killed more than 6,400 people in the western city of Kobe in 1995 and caused $100 billion in damage.
In one of the deadliest natural disasters in recorded history, an earthquake struck off the coast of Sumatra in 2004, triggering a series of devastating tsunamis that killed an estimated 230,000 people in fourteen countries across the Indian Ocean.
written by RFE/RL's central newsroom, with agency reports