Campaigning has kicked off for Kazakhstan's April 3 presidential election that is all but certain to return incumbent Nursultan Nazarbaev to power.
Nazarbaev called the snap poll last month after rejecting a proposed referendum on extending his current term until 2020.
Nazarbaev is competing against three candidates, none of whom has any broad appeal -- a Communist, a flamboyant politician known for his temper, and an ecologist.
Originally, 22 people stated their intention to run in the April 3 vote.
But on March 2, Kazakh Central Election Commission member Lyazzat Suleimen announced that only four were able to fulfill all the requirements needed to run for the country's top post -- chief among them, a Kazakh-language test that 11 failed.
Suleimen said the four approved candidates "have been given equal rights and opportunities to do statements, hold their election campaigns and meet with the voters."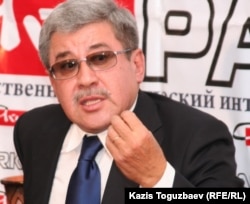 Gani Qasymov, "Kazakhstan's Vladimir Zhirinovsky"
The 70-year-old Nazarbaev has been in power since before Kazakhstan won its independence from the Soviet Union nearly 20 years ago.
Nazarbaev has already said he will not go out and campaign at all, leaving it to his Nur-Otan party to meet with voters.
No Strong Rival
Candidate Gani Qasymov is well-known for his, at times, eccentric behavior that has earned him the moniker "Kazakhstan's Vladimir Zhirinovsky," after the firebrand Russian nationalist politician.
Qasymov has thrown water in the face of television personalities and made thinly veiled physical threats against political opponents.
Qasymov, the leader of the Patriot's Party (created in 2000) ran for the presidency in January 1999, receiving 4.7 percent of the vote.
Another candidate, Zhambyl Akhmetbekov is the secretary of the Communist People's Party. He has already warned that his party has limited finances for conducting a campaign (about $135,000) but he said he was relying on the use of social networks to spread his platform.
The final candidate is Mels Eleusizov, head of the Tabighat (Nature) environmental organization and for years an outspoken champion of ecology in Kazakhstan.
Eleusizov has already indicated he will have a low-profile campaign, since he is depending solely on the money the Central Election Commission makes available to all candidates to conduct his campaign.
Eleusizov, who has admitted he has "no chance" of winning, ran in the last presidential election of 2005 but failed to receive even 1 percent of the vote.
Forced Out
Some of the 18 people who were rejected as candidates have simply bowed out and returned to their normal lives.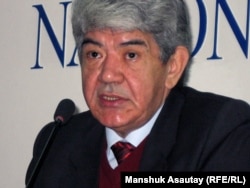 Mels Eleusizov, the leader of the Tabighat environmental group
But some are still bitter about being disqualified or, in the case of environmentalist Musagali Duambekov, being forced to withdraw.
Duambekov pulled out of the race on March 2, saying "people" had been going door-to-door in some areas to check on the signatures of his supporters.
Duambekov said these supporters were calling him to express concern about the problems they could face for backing him.
For his part, Serik Saparghali was rejected as a candidate. He tried to hold a press conference today to demand Nazarbaev resign but the authorities blocked his effort and Saparghali was forced to speak outside to a limited number of journalists, where he called for Nazarbaev to withdraw from the presidential race:
"I do not believe that a man, who was not able to run a country properly before he reached 70, will be able to run the country after he is 70," Saparghali said.
He added that Nazarbaev should resign, and that "If he returns to the state treasury all the wealth illegally obtained by him, his family members, and his close associates, his personal security and safety should be guaranteed."
The four candidates have until April 1 to campaign.
written by Bruce Pannier, with contributions from RFE/RL's Kazakh Service