Kazakh President Nursultan Nazarbaev has secured a new five-year term in office in a weekend election that has been sharply criticized by international monitors.
The Central Election Commission said today that provisional figures show the 70-year-old Nazarbaev taking 95.5 percent of the vote in a poll that drew turnout of nearly 90 percent.
Nazarbayev told supporters that the wide margin of his victory proves his country is "unified -- all the nationalities, peoples, and religions of Kazakhstan."
But monitors from the Organization for Security and Cooperation in Europe (OSCE) said today the poll was marred by "serious irregularities" and that "reforms necessary for holding genuine democratic elections have yet to materialize."
In its preliminary assessment, the OSCE's Office for Democratic Institutions and Human Rights (ODIHR) cited numerous instances of "seemingly identical signatures on voter lists and several cases of ballot box stuffing" and noted "the vote count and tabulation lacked transparency, and procedures were often not followed." The ODHIR assessment said these were "similar shortcomings as those noted in previous elections."
'Competition Among Friends
Daan Everts, head of the OSCE/ODIHR election observation mission, questioned the nearly 90 percent turnout at polling stations.
"One [example] that struck us on election day was the reports we received from all over the country of what I could call undue pressure on people to vote, which, of course, would explain the spectacularly high turnout," Everts said.
ODIHR also pointed to the lack of genuine competition in the election.
"The legal framework still contains shortcomings that need to be addressed by Kazakhstan's political authorities in order to comply with their OSCE commitments related to freedom of assembly and expression," said Tonino Picula, special coordinator of the OSCE's election observers.
Nazarbaev faced three opponents, none of whom could claim much popular support. All had publicly backed Nazarbaev's continued rule, and their participation was seen as mainly symbolic. One candidate -- environmentalist Mels Eleusizov -- even told journalists as he cast his ballot that he was voting for Nazarbaev.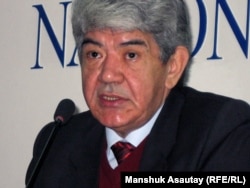 'Rival' candidate Mels Eleusizov told media that he voted for the incumbent, too.
ODIHR credited Kazakh media for providing "more equality in covering candidates," but omitted mentioning that Nazarbaev said before campaigning started that he would not campaign.
Speaking on election day, ODIHR director Janez Lenarcic said while there were signs Kazakh authorities are making progress in electoral reforms they are not keeping pace with efforts at economic and social reforms.
"Clearly, efforts are being made by the authorities to make further progress in the area of democratic reforms, which currently seem to be lagging somewhat behind the achievements of Kazakhstan in economic and social development," Lenarcic said.
A local nongovernmental organization, the Organization of Young Professionals of Kazakhstan, also said there were irregularities.
Olesya Khalabuzar, chairman of the local nongovernmental Organization of Young Professionals of Kazakhstan, told a press conference in Almaty today that there was widespread evidence of ballot-box stuffing and "carousel" voting, in which bands of people vote multiple times. RFE/RL's Kazakh Service reported seeing buses that took voters to several polling stations to cast ballots.
Meanwhile, Kazakh authorities said a 53-year-old man in the northern city of Pavlodar was charged with hooliganism after police said he set fire to a Nazarbaev campaign billboard. Officials said 13 criminal cases have been filed in connection with similar vandalism.
Not All Bad Reviews
Kazakh authorities can easily balance such criticism by publicizing the assessments of other organizations that were monitoring the elections.
Observers from the Parliamentary Assembly of the Council of Europe (PACE) said in a statement that "despite certain imperfections that invariably mar all elections in any country, the outcome of this vote truly reflects the will of Kazakhstan's electorate."
CIS election monitors were also present, as they always are at elections inside the Commonwealth of Independent States.
Election-monitoring mission chief Sergei Lebedev told a briefing in Astana that the April 3 election was democratic.
"According to our observations, the voting in the early presidential elections was conducted on a highly organized level, in a free atmosphere," Lebedev said. He said the elections met democratic standards and that the few violations CIS observers noted would not have affected the outcome.
The vote also got a stamp of approval from a delegation from Russia's Central Election Commission.
It said the poll was well organized and that international monitors had the necessary freedom to observe the election. The group's leader, deputy CEC chairman Stanislav Vavilov, said one deficiency was the lack of a sufficient number of workers at polling stations to accommodate the large number of people who turned out to vote.

What's In Store
Election observers from the Organization of the Islamic Conference (OIC) also said voting went smoothly. OIC Director of the Cabinet Sukru Tufan announced toward the end of election day that OIC monitors "visited very many polling stations, and during our tour of these stations we did not notice any violations. The voting processing was running freely, in a disciplined, transparent and very quiet manner." Tufan said voter participation was "massive."
Kazakhstan takes over as rotating chairman of the OIC later this year.
A victory by Nazarbaev -- who has ruled since Soviet times -- was assured from the moment the snap poll was called nearly two years ahead of schedule.
Opposition parties had called for a boycott, saying the vote was a sham that was certain to result in another term for Nazarbaev,
For those hopeful of change in Kazakhstan, the coming weeks will be far more interesting than the election campaign and election itself.
Nazarbaev has promised changes in the cabinet and in the country. Many are predicting early parliamentary elections this summer and Nazarbaev has hinted that the opposition should get seats in parliament for the first time since 2004.