U.S. and Pakistani leaders publically praised each other and renewed pledges of cooperation during U.S. Vice President Joe Biden visit to Islamabad on January 12.
But despite the displays of good faith, long-time observers of U.S.-Pakistani relations say that the two sides have a long way to go to overcome their significant differences.
Biden traveled to Pakistan with the goals of securing Pakistani public support for U.S. diplomatic and military efforts in the region, and to urge the country's leaders to stay the course in the fight against religious extremism.
But his talks with Pakistani President Asif Ali Zardari, Prime Minister Yousaf Raza Gilani, and General Ashfaq Parvez Kayani revealed little in the way of real progress in the fight against extremists, how a negotiated settlement might be reached in Afghanistan, or how to jump-start stalled dialogue between Washington and Islamabad.
Speaking to journalists after their official meeting, Gilani and Biden labeled extremists as their common enemies. Biden attempted to dispel widely-held perceptions in conservative Pakistani media that Washington has imposed a war on Islamabad in pursuit of its strategic goals. He said that the U.S. was indeed helping Pakistan in restoring its control over the regions now controlled by extremist groups including Al-Qaeda and its Pakistani Taliban allies.
"The United States and Pakistan have forged an enduring partnership, as you referenced, Mr. Prime Minister, against extreme ideologies, a partnership based, as you pointed out, on our common interest and our mutual respect for one another," Biden said.
Biden arrived in Islamabad following a two-day stay in Kabul, where he urged Pakistan to step up its help in combating the Taliban and allied extremists to facilitate the planned U.S. drawdown in Afghanistan, which will begin in July.
$3 Billion In Military Aid
Pakistan is a key global recipient of U.S. assistance. It is expected to receive up to $3 billion in military aid this year. In the past, as chairman of the U.S. Senate's Foreign Relations Committee, Biden backed the Kerry-Lugar-Berman legislation under which Islamabad receives $7.5 billion in civilian aid over five years.
Biden reiterated during his trip that a close partnership with "Pakistan and its people are in the vital self-interest of the United States of America." Washington has given Islamabad nearly $20 billion, mostly in military assistance, since the September 11, 2001, attacks in New York and Washington.
Islamabad's pressing worry now is to preserve its interests and future influence in Kabul after the U.S. withdrawal begins, and Gilani's diplomatic comments put the country's willingness to cooperate on display.
"Our discussion today on combating terror, issues of regional stability, and promoting reconciliation and peace in Afghanistan were extremely useful. Mr. vice president, I assure you that we intend to work on practical solutions and answers to many difficult issues," Gilani said.
But observers suggest that while Pakistani leaders' public stance is to see an orderly transition in Afghanistan unlike the chaos in early 1990s, they also seek to minimize influence by their arch-enemy India and to see a friendly government in Kabul.
Biden's meeting, held away from the media's glare, with the head of Pakistan's powerful military had the potential to reveal more about the true state of cooperation.
A brief statement from the military's Inter-Services Publish Relations Office offered little, saying only that the two discussed "matters of mutual interest." Pakistani media, however, was full of contradictory speculation about the discussions.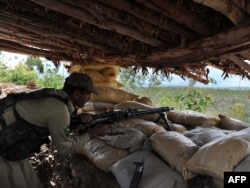 The U.S. is urging Pakistan to do more to clamp down on extremists
The English-language daily "Dawn" reported that Biden warned Pakistani leaders that Washington's patience was running thin over Islamabad's indecisiveness in acting on U.S. requests that it take on militants ensconced in North Waziristan. But quoting unnamed official sources, the daily "Express Tribune" characterized the Biden-Kayani meeting as "very positive and constructive." It reported that Washington toned down its demands on the North Waziristan offensive as both moved to a closer understanding on Afghanistan's future.
Marvin Weinbaum, a former U.S. State Department analyst for Afghanistan and Pakistan, said ahead of Biden's visit that Washington is aware that Islamabad is not going to mount a major military offensive in North Waziristan.
Weinbaum suggests that Washington would be happy with continued Pakistani cooperation in its strategy of using unmanned drones to target extremist bases in North Waziristan. Pakistani officials publically condemn such attacks, although there has been evidence to suggest -- including in diplomatic cables released recently by WikiLeaks -- that they privately support such attacks.
Getting Rid Of Extremists
Weinbaum, currently scholar-in-residence at the Middle East Institute, a Washington-based think tank, says Biden visit to Kabul and Islamabad was also aimed at shoring up the efforts toward a negotiated settlement in Afghanistan by reconciling with Taliban leaders.
"There has been a lot of talk here about a regional approach. You have to see this in the sense that all of this talk is not because necessarily there is any progress that is being made. But many people in the area, many actors in the area, want to be part of any process that takes place. They are afraid of the process of which they are going to be left out of," Weinbaum said.
Marvin says that keeping its relations with Islamabad on an even keel is in the best interests of Washington, which means it is likely to continue to provide Pakistan with much-needed aid.
The view from Islamabad is different. Maleeha Lodhi, a former Pakistani ambassador to London and Washington, noted ahead of Biden's visit that it was taking place against the backdrop of growing political and economic instability in Pakistan. She says it was intended to show that continued good relations with Islamabad are of high importance despite Washington's burgeoning relationship with New Delhi.
Lodhi predicted that Biden would urge Pakistani leaders to help in creating conditions which would help the beginning of planned U.S. withdrawal from Afghanistan. But she also noted that the strategic dialogue Islamabad and Washington began last year is in a stalemate, and said that relations are not helped by a very skeptical public mood in Pakistan.
Lodhi says that Islamabad would not be able to help in a negotiated settlement in Afghanistan until that turns into a key policy goal in Washington.
"I don't think we are going to be looking at conversations prior to the U.S. making up its mind that this is the road it wants to take. For now the road the U.S. is taking is just a lot of kinetic activity in Afghanistan and the border areas of Afghanistan and Pakistan," Lodhi said.
Away from Biden's visit, the United States made clear on January 12 the importance it places on helping Pakistan eradicate extremist networks on its soil.
"I've said it before and I'll say it again," Admiral Mike Mullen, the commander of all U.S. forces, told foreign journalists in Washington. "It [Pakistan] is the epicenter of terrorism in the world right now, and it deserves the attention of everybody to do as much as we can to eliminate that threat."