WATCH: PDK leader and outgoing Prime Minister Hashim Thaci and LDK leader and Pristina Mayor Isa Mustafa vote in Pristina (video by Reuters)
Prime Minister Hashim Thaci has claimed victory for his Democratic Party of Kosovo in the first general election in Kosovo since the territory declared independence from Serbia nearly three years ago.
Thaci made his claim after an exit poll put his party in the lead with 31 percent of the December 12 vote, ahead of main rival the Democratic League of Kosovo (LDK) at 25 percent.
The Democratic League has rejected the exit poll, saying it does not believe the numbers reflect the real results of the vote for the 120-member parliament. Electoral officials are expected to release official results later today.
"We should avoid divisions, we should work together," Thaci told a late-night party rally in Pristina. "Only then will Kosovo win, as it won tonight."
Both of the main parties say they back the reforms needed for eventual European Union and NATO membership for Kosovo, which has one of the weakest economies in Europe.
Officials said the overall turnout in the voting was around 48 percent.
Most minority Serbs were expected to boycott the vote, as Serbia says it will never recognize the declaration of independence made by Kosovo's ethnic Albanian leaders in February 2008.
The international community will be watching the vote and its aftermath closely to see whether the Serbian minority integrates into political life.
The European Union has urged Kosovar authorities to ensure a free and fair vote, saying this is a key condition for productive future ties with the bloc.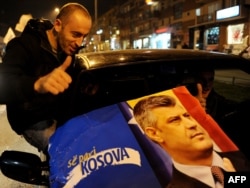 Supporters of the Democratic Party of Kosovo celebrate in Pristina.

'What Will Change?'
Fighting corruption and an unemployment rate of nearly 50 percent have been the main issues for voters during the election campaign.
"Today Kosovo votes for a European future, for a European Kosovo, for visa liberalization, for Kosovo as a NATO member, for integration into the EU and the United Nations, and for a better life for our citizens," Thaci said after voting in Pristina.
"This is an important day for Kosovo; it is an important day for developing democracy and governance in Kosovo," LDK leader Isa Mustafa said after casting his ballot.
"I trust the citizens will choose the best ones, the ones they think that will govern rightly in the future. I believe that these elections will be successful and all of us will be happy with the outcome."
But Pristina resident Arlinda Krasniqi told RFE/RL's Balkan Service that no big changes were expected from the vote.
"It will be the same, because we have seen no changes until now," Krasniqi said, "and I believe it will continue to be the same."
An elderly woman casts her vote at the polling station in the village of Gracanica.
Voters chose from 1,265 candidates from 29 parties, who are vying for the 120 seats in parliament.
Twenty seats have been reserved for ethnic minorities, including 10 that have been guaranteed to ethnic Serbian candidates.
Strong Serbian Resistance
But as in past elections, Belgrade, which still considers the territory its southern province, called on the 120,000-strong ethnic Serbian minority in Kosovo not to vote.
While in past elections turnout among ethnic Serbs was around 2 percent, this time observers were expecting more to cast ballots.
But Jovan Nikolic, a Serb from the ethnically divided northern town of Mitrovica, remained adamant in his determination not to vote.
"I will for sure participate in elections declared by our own country [Serbia], but I will in no way participate in elections organized by Kosovo institutions, which are illegal," Nikolic said.
The snap election was triggered by parliament overwhelmingly backing a no-confidence motion last month, bringing down the government that led the country to independence from Serbia in February 2008.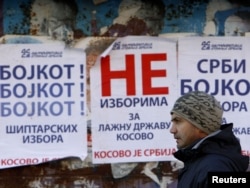 Posters call for a boycott of upcoming elections in the northern, Serb-dominated part of the ethnically divided town of Mitrovica.
In the almost three years since then, Kosovo has struggled to establish itself as an independent country.
So far some 70 countries, including the United States and most EU members, have recognized Kosovo as an independent country.
Serbia's ally Russia has been among the countries opposing the territory's membership as an independent state in the United Nations.
More than a decade after NATO air strikes broke Belgrade's control, most Serbs continue to live in enclaves guarded by NATO-led peacekeepers, mostly concentrated in northern Kosovo.
with material from RFE/RL's Balkan Service and news agency reports