Kazakhstan-Kyrgyzstan Row: A Spat Between Friends Or A Parting Of Ways?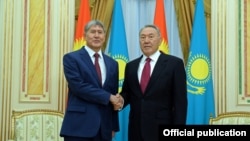 It is strange and sad to watch relations between Kazakhstan and Kyrgyzstan become so bitter, so quickly.

When you share borders in Central Asia, problems are inevitable. But Kazakh-Kyrgyz relations have generally been very cordial, both between the governments and peoples.

In fact, in the late 1990s, when all the Central Asian states were establishing new posts along borders with their formerly fraternal Soviet republic neighbors, Kazakhstan and Kyrgyzstan were dismantling border posts along their common frontier.

So it is a surprise to see a recent spat leading to long lines of trucks sitting idle on the Kyrgyz side of the border, some carrying perishable goods that are rotting or have already gone bad.


It is also a surprise to hear Kazakh and Kyrgyz officials making so many snide comments about leaders and policy in the neighboring state.

And it is startling to see Kyrgyzstan's leadership so frustrated with Kazakhstan that Bishkek moved quickly to annul a deal to receive a $100 million windfall from Kazakhstan.

It took barely one month for all this to happen, starting with the September 19 meeting of then-Kyrgyz presidential candidate Omurbek Babanov with Kazakh President Nursultan Nazarbaev in Astana.

Kyrgyzstan's presidential election was scheduled for October 15 and incumbent President Almazbek Atambaev had thrown his complete support behind his pick for successor, former Prime Minister Sooronbai Jeenbekov.

Atambaev and others in Kyrgyzstan objected to the Nazarbaev-Babanov meeting, and it is indeed difficult to imagine a veteran politician like Nazarbaev, who has balanced relations with giant neighbors Russia and China for 26 years, was not aware of the problems he would spark in Kyrgyzstan by meeting with the main rival to Atambaev's preferred candidate.

The foreign ministries of the two countries exchanged some angry notes, but nothing more happened until October 7, when Atambaev finally vented at a state award ceremony.

Atambaev accused Kazakhstan of "meddling in Kyrgyzstan's internal affairs," accused the Kazakh government of having sympathies toward the regime of former Kyrgyz President Kurmanbek Bakiev, who was ousted in a violent uprising in April 2010, and criticized Kazakhstan's pension system.

"In Kazakhstan, GDP is more than in Kyrgyzstan, [by] 20 times. Why then are pensions in Kazakhstan only 1.5 times higher, and tariffs five times higher?" Atambaev asked, before answering his own question: "Because they embezzle riches in Kazakhstan."


On the night of October 10, Kazakhstan closed its border with Kyrgyzstan.

Subsequent statements from Kazakh officials reminded Kyrgyzstan of the potential isolation it faced if Kazakhstan chose to close its borders to traffic to and from Kyrgyzstan for the long-term.

Atambaev skipped the October 11 CIS and Eurasian Economic Union (EEU) summits in Sochi, saying he could not attend due to intelligence that riots were planned ahead of the presidential election, but many believed it was an excuse to avoid seeing President Nazarbaev.

Kyrgyz authorities complained to the EEU and the World Trade Organization about fellow member Kazakhstan's actions.

Kyrgyz Prime Minister Sapar Isakov flew to Astana on October 18 for talks on the border situation. He did succeed in opening the border to travelers on foot, and later to private vehicles, but not to trucks hauling cargo.

The same day Isakov left for Kazakhstan, however, Atambaev attempted an apology, saying: "Perhaps I was wrong when I spoke emotionally about the president of Kazakhstan. He is a trusting person, as I am."

Atambaev deflected blame, saying that "much like any president, [Nazarbaev] trusts his entourage, but his entourage are oligarchs who think of their own future, not about Kazakhstan and Nazarbaev."

Then, on October 20, Kyrgyzstan's media reported that the government had submitted a proposal to parliament to rescind an agreement to receive $100 million from Kazakhstan.

That proposal sped through committee discussions and was adopted by parliament on October 25.

It is an "own goal" of epic proportions.

The money was essentially a gift given to help Kyrgyzstan update state entities to meet EEU trade standards.

Kyrgyzstan just joined the EEU in August 2015, but in order to trade with fellow EEU members the quality of Kyrgyz goods must be certified by qualified inspection bodies.

Kazakhstan was prepared to help by releasing the first tranche, $41 million, to Kyrgyzstan in November.

The Kyrgyz information website Kaktus.kg (formerly Zanoza.kg) broke down where the money would have gone.

More than $15.8 million was designated for the state agency overseeing vaccinations and sanitary safety; more than $6.1 million for agriculture, food processing, and land reclamation; and $5.2 million for the Health Ministry's department of disease prevention and sanitary regulations, to give just a few examples.

Just because Kyrgyzstan is not accepting money from Kazakhstan does not mean Kyrgyzstan does not need all these things to be able to trade within the EEU.


Which means Kyrgyzstan will need to come up with some other way to attract or raise that cash.

It is not likely to come from EEU member Russia.

On October 19, Kyrgyz Finance Minister Alylbek Kasymbekov told parliament that Kyrgyzstan no longer owes Russia any money after Russia agreed to write off Kyrgyzstan's $240 million debt.

It would be a brazen act to turn around and essentially say: "Now that we don't owe you $240 million anymore, can we borrow $100 million?"

And anyway, Kazakhstan is Russia's neighbor as well, and Nazarbaev and Russian President Vladimir Putin have been close for nearly two decades, so there is no reason to believe the Kremlin would side with Kyrgyzstan over Kazakhstan.

There are already hopes that when Atambaev officially steps down in early December and Jeenbekov becomes president the reset button on Kazakh-Kyrgyz relations will be hit.

But wounded relations in Central Asia don't heal quickly; some never do.

Jeenbekov is seen by many as Atambaev's proxy, and Jeenbekov himself said while campaigning that he would continue the outgoing president's policies.

Astana might not see much difference between Atambaev and Jeenbekov, who ended up winning a first-round victory.

Jeenbekov has already said that his first visit as president would be to Kazakhstan, but it will take some magnanimous gestures to get Kazakh-Kyrgyz ties back on track.

(The views expressed in this blog post do not necessarily reflect those of RFE/RL.)
About This Blog
Qishloq Ovozi is a blog by RFE/RL Central Asia specialist Bruce Pannier that aims to look at the events that are shaping Central Asia and its respective countries, connect some of the dots to shed light on why those processes are occurring, and identify the agents of change. Content will draw on the extensive knowledge and contacts of RFE/RL's Central Asian services but also allow scholars in the West, particularly younger scholars who will be tomorrow's experts on the region, opportunities to share their views on the evolving situation at this Eurasian crossroad. The name means "Village Voice" in Uzbek. But don't be fooled, Qishloq Ovozi is about all of Central Asia.