A spokesman for Muammar Qaddafi, says troops and tribal fighters loyal to the Libyan leader will reject a rebel ultimatum to surrender by September 3 or face an attack.
Moussa Ibrahim told the AP news agency that "no dignified honorable nation would accept an ultimatum from armed gangs."
The leader of Libya's rebel National Transitional Council (NTC), Mustafa Abdel Jalil, delivered the ultimatum on August 30 in a sign of the rebels' increasing confidence as they solidified their hold on the capital, Tripoli.
"This window of opportunity closes with the end of the official holiday of Eid al-Fitr," he said. If on September 3, "there are no clear peaceful indications of implementing this [surrender by Qaddafi loyalists], we will act decisively to end this situation militarily. We do not wish to do it, but we cannot wait any longer."
The deadline was primarily in reference to pro-Qaddafi forces in his hometown of Sirte, a city some 360 kilometers east of Tripoli where rebel forces are now converging. The city is one of the last major bastions for loyalist troops.
Rebel leaders had reportedly been in discussions for days with tribal leaders in the city to negotiate a peaceful surrender, with some officials conceding that the city would be difficult to take.
The ultimatum also applies to pro-Qaddafi strongholds in the center and south of the country, including the oasis town of Sabha.
NATO, which has backed the rebels with an air campaign since March, said it was continuing to target sites near Sirte.
While some question whether the alliance is staying true to its intended mission of protecting Libyan civilians from violence, the bloc has vowed to maintain its activity.
"The NATO mission [in Libya] is important, it's effective, and it's still necessary in order to protect civilians," NATO spokeswoman Oana Lungescu told a news briefing in Brussels.
"As long as threats remain there is still a job to be done and we will get that job done. The mission will continue in full compliance with the United Nations mandate for as long as it's needed, but not a day longer," she said.
Qaddafi Family Members In Algeria
Meanwhile, Libya's rebels have accused neighboring Algeria of committing an act of aggression after
Algeria said it has taken in the fleeing wife
of Muammar Qaddafi and three of his children -- including Qaddafi's eldest son Muhammad al-Qaddafi.
Algeria's Foreign Ministry said Qaddafi's second wife, Safia Farkash, had entered Algeria on the morning of August 29 -- together with the embattled ruler's 34-year-old daughter Ayesha and his adult sons Muhammad and Hannibal.
Algeria's Health Ministry said that Ayesha Qaddafi on August 30 gave birth to a girl, and the country's UN ambassador said the family had been allowed to enter the country due to "humanitarian considerations."
Algeria has not recognized the NTC as the legitimate representatives of the Libyan people.
A rebel spokesman, Mahmud Shammam, said the new government in Tripoli would seek to extradite the Qaddafis.
"This is an act of aggression against the Libyan people and their wishes and aspirations. We will use all legal measures to extradite these criminals and put them on trial, regardless of anything else," he said.
"We warn anyone who attempts to harbor Qaddafi or his family that in doing so, they will become an enemy of the Libyan people and the Libyan people will pursue them all over the world."
Shammam said the new Libyan government has heard that Algeria plans to harbor Qaddafi's wife and children until they can travel to another country. He said they are thought to be trying to reach "an east European country."
In Washington, State Department spokesperson Victoria Nuland said there are "concerns" that Algeria's actions could violate a UN resolution banning travel for Qaddafi's family members.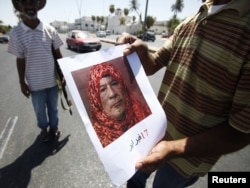 A rebel fighter shows a manipulated photograph of Muammar Qaddafi at a checkpoint in Tripoli on August 29.
The whereabouts of Qaddafi himself remains unknown, amid unconfirmed reports that he is in Sabha in the south or in Bani Walid, southeast of Tripoli.
Fears Of A New Insurgency
Qaddafi, together with his son Saif al-Islam and intelligence chief Abdullah al-Senussi, have been indicted by the International Criminal Court for crimes against humanity.
The rebels fear that Qaddafi and his sons could orchestrate a new insurgency in Libya unless they are captured.
On the diplomatic front, the United Nations has given the green light to Britain to release some $1.6 billion in frozen Libyan to the new rebel government.
The decision came after the UN on August 25 agreed to release a similar amount of funds held in U.S. banks for humanitarian use, social services, and reconstruction in Libya.
The UN Security Council today also discussed a post-conflict deployment to the country.
According to a draft of the plan seen by RFE/RL's correspondent, the body would initially send some 50 unarmed observers from its peacekeeping operations and gradually to increase their number to around 200.
Speaking at UN headquarters in New York, Secretary-General Ban Ki-moon noted that agreement is growing within the international community that the world body has a major role to play in post-conflict Libya, providing the country's new leaders request such help.
"I cannot overstate the urgency of this moment, time is of the essence. The people of Libya are looking to the international community for help, the transitional government will be outlining specific requests in the coming days. My aim is to get UN personnel on the ground absolutely as quickly as possible under a robust Security Council mandate," said Ban.
One of the peacekeepers' priorities would be to prevent reprisals by rebel forces against remaining Qadaffi loyalists.
The draft plans calls for transparent and inclusive government and protection of the human rights, while cautioning against summary purges of government officials. It also says NATO "will continue to have some responsibilities in Libya."
Russia, China To Send Envoys To Libya Conference
Elsewhere, Russia and China have said they will send representatives to an international conference on Libya, which is to be held in Paris on September 1.
Russian media reports say Russia will be represented by Mikhail Margelov, President Dmitry Medvedev's special envoy for Africa. Margelov himself confirmed that Russia would take part.
The Chinese Foreign Ministry said Deputy Foreign Minister Zhai Jun will attend the conference as an "observer for the Chinese government."
French President Nicolas Sarkozy and British Prime Minister David Cameron will jointly chair the "Friends of Libya" conference with leaders of the Libyan NTC.
UN Secretary-General Ban Ki-moon is also scheduled to attend the conference, which aims to pledge crucial financial and development support for the NTC and the rebel forces that forced the collapse of Muammar Qaddafi's regime.
Russia and China each have contracts in Libya worths billions of dollars. Russia and China -- both veto-holding permanent members of the UN Security Council -- abstained in a crucial Council vote that opened the way for NATO's military campaign in Libya.
with RFE/RL correspondent Nikola Krastev in New York and agency reports