Sporadic, but intense fighting has continued in central Tripoli, despite claims by rebel fighters that they have most of the Libyan capital under their control.
The fighting comes on a day of increased international diplomacy relating to the situation in the North African country, as the West looks to unfreeze Libyan assets for use by the opposition National Transitional Council (NTC).
In Tripoli, supporters of Muammar Qaddafi resumed attacks on the Bab al-Aziziya complex, the symbolic heart of the Qaddafi regime that opposition forces seized on August 23.
Qaddafi's troops could be seen fortifying their positions and flying Qaddafi's green flag within Tripoli's nearby Tarabulus Zoo Park, a vast forested area that appears to have become their last line of defense within the city.
Follow events in Tripoli LIVE on Alhurra (in Arabic)
Pro-Qaddafi snipers and troops with heavy artillery were firing from the park into the Bab al-Aziziya complex. Rebel fighters were responding by ordering artillery fire into the park.
The zoo park includes the Rixos Hotel, where more than 30 foreign journalists had been trapped indoors and guarded by heavily armed pro-Qaddafi gunmen for the past five days.
The journalists, who had been growing short of food and water, reported that they had been freed around midday on August 24 and transferred to another hotel with the help of the Red Cross.
In another development U.S. officials said four US citizens who had been held by forces loyal to Qaddafi were freed on August 24 when rebels liberated a prison in Tripoli.
There were also reports that four Italian journalists have been kidnapped in the country.
A Libyan physician named Nasir told an RFE/RL correspondent at the Dahiba crossing on the Libyan-Tunisian border that the situation in Tripoli's hospitals was "overwhelming."
"There's not enough supplies. There's not enough physicians," Nasir said.
Even as the fighting continues in the capital, NTC representatives say that they plan to move their representatives from Benghazi to Tripoli within days.
Meanwhile, a battle was reportedly raging about 650 kilometers south of Tripoli in the desert city of Sabha, where Qaddafi's troops remain in control of a major air-force base.
NTC members were also reported to be in talks with tribal leaders from Qaddafi's birth town of Sirte, another regime stronghold, as their forces advanced on the city.
Foreign Support
Far from the front lines, NTC Prime Minister Mahmud Jibril met in Paris with French President Nicolas Sarkozy, who pledged to maintain military support for the opposition.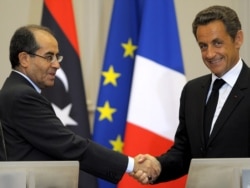 French President Nicolas Sarkozy (right) welcomes Libyan rebel leader Mahmud Jibril in Paris.
"We are ready to continue military operations under the UN Resolution 1973 for as long as our Libyan friends need it," Sarkozy said.
France was the first country to recognize Jibril's government and has been a key supporter of continuing the NATO air-strike campaign meant to stop Qaddafi's forces from attacking civilians.
Sarkozy also announced that he had invited the countries he regards as "friends of Libya" to talks in Paris on September 1 on the future of the country after Qaddafi.
He said that China, Russia, India, and Brazil -- countries that have expressed doubts about backing the NTC -- were also invited.
Jibril acknowledged that despite enormous opposition gains, the fighting wasn't yet over in Libya.
He said the country would need substantial support from the West going forward. "There will be another battle that will be ferocious -- the battle for reconstruction," he said.
The United States on August 24 asked the U.N. Security Council to unfreeze $1.5 billion in Libyan assets, a proposal South Africa has blocked for weeks because it objects to funding the rebel government. A vote is expected on August 25.
South African Ambassador Baso Sangqu told reporters his country was concerned that funding the TNC implied recognizing it, something the African Union had not so far done.
U.K. Prime Minister David Cameron has said Britain hopes to release about $20 billion in assets, while the United States says it will soon give Libya's opposition an initial $1 billion to $1.5 billion out of the assets it has frozen.
Other European countries also pledged to unfreeze assets or provide loans.
The Security Council is set to vote later this week on the resolution.
WATCH: Libyan rebels celebrate inside Muammar Qaddafi's main military compound in Tripoli, which they stormed after fierce fighting with forces loyal to his regime. (Video by AP)
Meanwhile, international officials met with TNC representatives in Doha on August 24 to discuss aid for Libya.
Libya's Ambassador to the United Arab Emirates, Aref Nayed, announced at the meeting that the TNC will seek to have $5 billion in frozen assets released to jump start the country's economy and provide vital relief to its citizens
"What I would like to assure you of is that we have worked out the mechanisms prior to requesting the funds," he said. "And this was very hard work, diligent work of young Libyan lawyers and financial experts...They worked extremely hard in order to make sure that the DFM [Dubai Financial Market] or the payment mechanism is not only sophisticated...but also that it is efficient and can deliver."
The issue of frozen assets is expected to dominate proceedings on August 25 when Libyan rebel representatives, including Mahmud Jibril, are due in Istanbul to meet with their international backers and discuss the latest developments in the struggle to unseat Muammar Qaddafi. The meeting will be chaired by Ahmed Davutoglu.
Earlier, White House deputy spokesman Josh Earnest said that Washington had "confidence" that the opposition can steer Libya through the difficult times ahead.
Earnest pointed out that it was President Barack Obama "who led the effort several months ago, a couple of months ago, to recognize them as the proper ruling entity in that country. And we are encouraged by the way that they have conducted themselves so far and we intend to be a partner and to be supportive of their efforts to put in a governmental structure in transition to a freer Libya."
Qaddafi Defiant
But while the Libyan opposition forces and world leaders begin to look to a new government in the country, Qaddafi remained at large.
Earlier on August 24, in a defiant audio message aired by the local television station Al-Rai, Qaddafi said he had abandoned his compound as a "tactical" move and urged his supports to "eradicate the traitors and rats" from Tripoli.
"All the tribes in Tripoli, out of Tripoli, youths, senior people, women, men and armed committees must attack Tripoli and comb the areas and eradicate the traitors and rats," he said. "[The rebels] will slaughter you and desecrate your bodies."
Qaddafi also claimed that he had walked "discretely" in the streets of Tripoli on August 23 without anybody recognizing him and that he had seen young Libyans who were ready "to defend their city" against rebel fighters.
"The tribes in Tripoli and outside Tripoli, as well as residents of Tripoli who have no tribes, should purify their areas and the city of Tripoli," he said.
Libya's rebel council said it will give amnesty to any of Qaddafi's entourage who kill or capture him.
NTC Chairman Mustafa Abdel Jalil also said a Benghazi businessman had offered a reward of 2 million Libyan dinars ($1.3 million) for Qaddafi's capture.
Meanwhile, the second in command of Libya's intelligence services, Khalifah Mohammed Ali, declared his allegiance to rebel forces in an interview aired on Al-Arabiyah television.
In London, British Foreign Secretary William Hague described Qaddafi's remarks as "delusional statements." Hague said the world was now witnessing the "death throes" of Qaddafi's regime.
"The regime has clearly lost control of most of the capital and much of the country," Hague said. "I think it is time now for Colonel Qaddafi to stop issuing delusional statements and to recognize that that has happened, that control of the country is not going to return. He should be telling his dwindling and remaining forces now to stand down."
with agency reports