The chief prosecutor of the International Criminal Court says his investigators have obtained evidence suggesting that Libyan ruler Muammar Qaddafi ordered mass rapes of women as part of a campaign of intimidation against rebel forces that have been trying to topple his rule.
Prosecutor Luis Moreno-Ocampo told reporters at United Nations headquarters in New York on June that systematic rape was apparently a "new aspect" of Qaddafi's crackdown against his opponents.
Human rights activists and legal scholars note that there is an enormous difference between individual acts of violence committed during a war and a systematic orchestrated campaign to target civilians.
Moreno-Ocampo said his inquiry was examining possible evidence that some of Qaddafi's troops were given anti-impotency medication such as Viagra in order to carry out a widespread and orchestrated campaign of rape.
"In some areas, we have a number of hundreds of people raped," he said. "The issue for us was, can we attribute these rapes to Qaddafi himself, or is it something that happens in the barracks and [is] decided by some people?
"That was the hesitation. But now we are getting some information that Qaddafi himself decided to rape. And this is new. It never was the pattern that he used to control the population. The rape is a new aspect of the repression."
There was no immediate comment about the allegations from Qaddafi's regime, which does not recognize the authority of the International Criminal Court.
Libyan rebels have meanwhile
received pledges
of more than $500 million in aid at a meeting of Western and Arab nations in Abu Dhabi to focus on plans for a post-Qaddafi Libya.
An Instrument Of War
In May, Moreno-Ocampo requested arrest warrants for Qaddafi, for his son Saif al-Islam, and for Abdullah el-Sanussi, the regime's intelligence chief, on charges of crimes against humanity allegedly committed during the campaign to crush Libya's popular uprising.
He said the charge of rape wasn't included in his initial arrest warrant because of a lack of evidence tracing the policy directly to Qaddafi.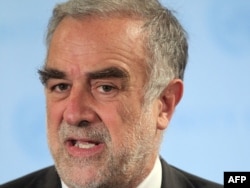 Chief Prosecutor of the International Criminal Court Luis Moreno-Ocampo
But on June 8, the prosecutor indicated that he would probably request the judges at The Hague-based court's pretrial chamber add rape to the charges.
"We are collecting more evidence," he said. "We have interesting indicia on the rapes, because rapes in Libya were not the normal tactic to attack alleged dissidents. But now we are confirming that we have information that there was a policy to rape, in Libya, those who were against the government."
Moreno-Ocampo was authorized by the UN Security Council's February 26 resolution on Libya to investigate alleged crimes against humanity by Qaddafi's regime.
The United Nations has increasingly been focusing on systematic rape as an instrument of war.
UN Secretary-General Ban Ki-Moon has appointed Margaret Wallstrom of Sweden to act as a special envoy on sexual violence during armed conflicts.
'Women Walk In Shame, Perpetrators Walk Free'
In a recent speech at Brown University in the United States, Wallstrom said she believed sexual violence in conflict has become "the weapon of choice" because "it is cheap, silent, and effective."
"One does not need bullets or bombs, only individuals with cruel intent," she said. "And acts of sexual violence do not only maim its victims mentally and physically, but they sow the seeds of destruction of an entire community.
"Female survivors in some instances become pregnant, often get infected with HIV/AIDS, can develop incontinence, and are regularly rejected by their own families.
"Traditionally, the risks for the architects behind the atrocities have been negligible. While the women walk in shame, the perpetrators walk free."
Wallstrom estimated that for each case of rape that is reported in a conflict zone around the world, there are probably 10 to 20 such rapes that go unreported.
In the conservative culture in Libya -- where rape is considered a matter of profound shame for an entire family -- rights advocates say the number of unreported rape cases is likely much higher. Indeed, it is rare in Libya for a rape victim to speak out publicly.
Rape Videos
The first allegations of rape by Qaddafi loyalists were raised in May by Eman al-Obeidi, a Libyan woman who burst into a journalists' hotel in Tripoli and began to tell a harrowing story of being gang-raped by a group of pro-Qaddafi soldiers.
Libyan woman Eman al-Obaidi says she was gang-raped by pro-Qaddafi soldiers.
Before she could finish her story, Obeidi was grabbed by Qaddafi's security agents and hustled away. She vanished for several days before escaping from Libya with the help of defecting military officers. She is now in Romania receiving care and counseling at a private clinic within a UN refugee camp.
Nigel Pont, a regional director for the nongovernmental aid group Mercy Corps, says his staff in eastern Libya have seen no direct evidence themselves of systematic rape by Qaddafi's troops.
But Pont says there are many stories circulating there -- particularly in front-line cities like Misurata that have changed hands several times during the battle between Qaddafi loyalists and opposition fighters.
The BBC recently interviewed two captured Qaddafi loyalists in Misurata who claimed they were threatened and forced by their officers to take part in the gang rape of four women between the ages of 20 and 24. They said at least 20 pro-Qaddafi officers also took part in the crime.
There are also reports of "rape videos" circulating in Libya that were taken by pro-Qaddafi soldiers with mobile phone cameras.
Ismael Fortia, a doctor who lives in Misurata, is a member of a medical committee that has been set up in the opposition-held city to investigate the rape stories there. Fortia describes the investigation as a "very sensitive" and "delicate matter."
Fortia says no women have come forward yet to speak to the committee. But he says he hopes that with psychological counseling, Libyan rape victims will be emboldened and testify about the crimes committed against them.
with agency reports