Rebels fighting to end Muammar Qaddafi's rule in Libya say government forces continue shelling Misurata, the country's third-largest town.
Misurata is the only rebel-controlled town in the west of the country and has been under siege from Qaddafi's forces for the past seven weeks.
A rebel spokesman said at least 17 people were killed in shelling in the port city on April 17, and about 100 wounded.
Qaddafi's forces also continued their offensive on the eastern town of Ajdabiyah, where wounded rebel fighter Walid Arafy described the fighting to reporters.
"We tried to advance, but they were very strong, to be honest, they prevented us," Arafy said. "They used all their force to stop us. We were trying to outflank them, and they were try to outflank us. We have already talked a lot about the big difference in weaponry between them and us."
The New York-based Human Rights Watch and "The New York Times" have accused Qaddafi's forces of
using cluster bombs
, which are widely banned because of the unintended destruction they cause, in the fighting in Misurata. They have rejected those allegations.
One month ago, the United Nations Security Council authorized "all necessary measures" to protect civilians from attacks by Qaddafi's forces, leading to an international air campaign.
Despite NATO air strikes, however, the rebels have been unable to hold gains in the weeks of fighting.
compiled from Reuters reports
Liveblog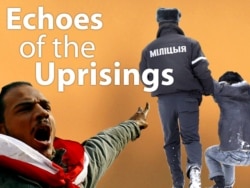 Tracking events and ideas convulsing the Arab world and with ripples around the globe, including RFE/RL's broadcast region.
Click here