Majlis Podcast: Mirziyoev's First Year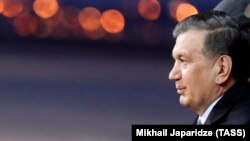 The Majlis is back and this week takes a look at the last year in Uzbekistan, which was the first year with its new president, Shavkat Mirziyoev, leading the country.
Uzbekistan has definitely changed since Mirziyoev came to power, so this Majlis session reviewed some of those changes and some of the things that haven't changed, as well the likely boundaries of reform in Uzbekistan.
Just back from vacation -- tan, rested, and ready -- Muhammad Tahir, RFE/RL's media relations manager, moderated the discussion.
From London, Alisher Ilkham of the School of Oriental and African Studies joined the talk, Our own Alisher Sidik, director of RFE/RL's Uzbek Service, known locally as Ozodlik, also took part. And I kicked in a few comments.
Listen to the podcast above or subscribe to the Majlis on iTunes.
About This Blog
Qishloq Ovozi is a blog by RFE/RL Central Asia specialist Bruce Pannier that aims to look at the events that are shaping Central Asia and its respective countries, connect some of the dots to shed light on why those processes are occurring, and identify the agents of change. Content will draw on the extensive knowledge and contacts of RFE/RL's Central Asian services but also allow scholars in the West, particularly younger scholars who will be tomorrow's experts on the region, opportunities to share their views on the evolving situation at this Eurasian crossroad. The name means "Village Voice" in Uzbek. But don't be fooled, Qishloq Ovozi is about all of Central Asia.
Latest Podcasts