Majlis Podcast: Is This The 'Uzbek Spring'?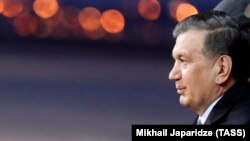 This week's podcast looks at recent moves in Uzbekistan.
Hopeful signs continue to come from Tashkent, most recently statements from Foreign Minister Abdulaziz Kamilov about possibly revoking the exit-visa requirement for Uzbek citizens and raising the possibility of the return of Human Rights Watch and BBC to the country.
These were the latest pronouncements from Tashkent that seem to mark a distinct change in the policies of Uzbekistan's government since Shavkat Mirziyaev took over as president after long-serving President Islam Karimov's death was announced at the start of September last year.
But how optimistic should we be?
Muhammad Tahir, RFE/RL's media relations manager, moderated a Majlis, or panel discussion, on the latest signals from the Uzbek government. Is genuine change under way and what are some possible motives for it?
From Washington D.C., former U.S. Ambassador to Uzbekistan John Herbst, who is currently director of the Atlantic Council's Dinu Patriciu Eurasia Center, participated in the discussion. Majlis friend Steve Swerdlow, Central Asia researcher for Human Rights Watch (HRW) and also the last HRW representative to work in Uzbekistan, took part as well. I was more than up for this one after vacation, so I pitched in with some comments, too
Listen to or download the Majlis podcast below or​ subscribe to the Majlis on iTunes.​
About This Blog
Qishloq Ovozi is a blog by RFE/RL Central Asia specialist Bruce Pannier that aims to look at the events that are shaping Central Asia and its respective countries, connect some of the dots to shed light on why those processes are occurring, and identify the agents of change. Content will draw on the extensive knowledge and contacts of RFE/RL's Central Asian services but also allow scholars in the West, particularly younger scholars who will be tomorrow's experts on the region, opportunities to share their views on the evolving situation at this Eurasian crossroad. The name means "Village Voice" in Uzbek. But don't be fooled, Qishloq Ovozi is about all of Central Asia.