Egypt's ousted President Hosni Mubarak has been detained for 15 days as authorities investigate allegations of corruption by his regime and look into the killing of hundreds of protesters during Egypt's recent uprising.
Meanwhile, Mubarak's sons Alaa and Gamal were detained on orders by Egypt's top prosecutor that they be held for 15 days of questioning.
The brothers have been transferred to Tora prison on the outskirts of Cairo where they join a growing number of prisoners from Mubarak's former ruling circle.
The detention and questioning of Mubarak, his sons, and key figures in his regime was a major demand of pro-democracy protesters who staged weeks of rallies in January and February at Cairo's central Tahrir Square. Those protesters want regime officials to be held accountable for abuses during Mubarak's three decades of rule.
Hundreds are estimated to have been killed during the uprising as police opened fire and cracked down on the crowds. Officials put the number of protesters killed during the uprising at 365. But human rights activists and others have said the real death toll is about twice that figure
Authorities are now investigating officials in Mubarak's regime about their role in ordering the violence.

'Heart Crisis'
Mubarak, who fled to Sharm el-Sheikh after being ousted from power on February 11, reportedly was hospitalized in the Red Sea resort town on April 12 when he suffered what authorities described as a "heart crisis" while being questioned by investigators.
Hospital officials declined to give any details about the 82-year-old's medical condition or even confirm that he was a patient.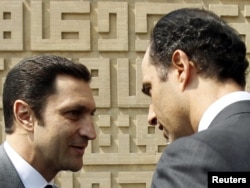 Alaa Mubarak (left) and Gamal Mubarak have also been detained.
Hospital director Mohammed Fathallah, when asked if Mubarak was in good health, told France's AFP news agency: "Somewhat." The state-owned daily "Al-Ahram" newspaper, citing sources in Sharm el-Sheikh, said on April 13 that Mubarak had gone to hospital "under the pretext of being unwell in order to avoid facing questioning."
Security officials told Germany's dpa news agency that Mubarak would be moved later today to a hospital in Cairo. But other media reports said Mubarak was expected to spend his 15 days of detention at the hospital in Sharm el-Sheikh. The official MENA news agency quoted authorities who said Mubarak would be taken to a prison cell once his health condition allows his transfer.
Meanwhile, there was a heavy security presence outside of Mubarak's hospital room and around the facility today amid concerns that Mubarak's supporters might attempt to free the former president by force.
By early afternoon, a small group of demonstrators had gathered outside the hospital to protest against Mubarak and his three decades of oppressive rule.
Calls For Justice, Dignity
On April 8, demonstrators who continue to maintain a protest camp in Cairo's Tahrir Square had threatened to move their protests to Sharm el-Sheik if steps were not taken to push forward with the investigation of corruption and abuse-of-power allegations against Mubarak and his sons.
That had been a major demand of pro-democracy demonstrators before Mubarak's ouster -- that regime officials be held accountable for abuses during their 30 years of rule.
There has been no official reaction from Washington about the detention of Mubarak and his sons. But U.S. Secretary of State Hillary Clinton told a Washington conference on U.S.-Islamic relations on April 12 that calls for justice and dignity appear to be having an impact across the Arab world.
"Today, the long Arab winter has begun to thaw," Clinton said. "For the first time in decades, there is a real opportunity for lasting change, a real opportunity for people to have their voices heard and their priorities addressed."
Egyptian state television reported on April 13 that both of Mubarak's sons were being detained "for the needs of the inquiry" and that the brothers already had been interrogated at a court building in Sharm el-Sheikh. They reportedly were to be asked about allegations that they were "connected to the crimes of assault against protesters, leading to deaths and injuries."
As a police van with drawn curtains took away the brothers, a crowd of angry demonstrators pelted the vehicle with water bottles, stones and their shoes -- a sign of disrespect in the Arab world.
The official MENA agency reports that Mubarak's son Gamal, once seen as his father's anointed heir, and his elder brother both appeared to be in shock as they were handed white prison uniforms, blankets, and mattresses at Tora prison after surrendering their cell phones.
Indeed, Mubarak's sons join a number of Mubarak's allies at the Tora prison who are now being investigated on allegations of corruption and abuse of authority.
They include the ruling party Secretary-General Safawat El-Sherif, organizational secretary Ahmed Ezz, speaker of parliament Fathi Sorour, former Prime Minister Ahmed Nazif , former Interior Minister Habib El-Adly, and several other former government ministers and top regime officials.
compiled from agency reports