WATCH: News Corp Chief Executive and Chairman Rupert Murdoch appears before a U.K. parliamentary committee on phone hacking. (Reuters video)
Rupert Murdoch and his son, James, have appeared before a British Parliamentary committee over the phone-hacking scandal that has rocked Britain, with the 80-year-old media mogul saying he was "shocked, appalled, and ashamed" when he recently learned of the transgressions.
Murdoch was taciturn for much of the three-hour appearance, answering many questions in monosyllables and referring others to his son, who is deputy chief operating officer of the sprawling News Corporation media enterprise.
"I would just like to say one sentence: This is the most humble day of my life," the elder Murdoch said at the start of proceedings, which were aimed at unraveling some of the questions surrounding the massive hacking and corruption scandal that has engulfed Murdoch's U.K. media empire, British media authorities, and Scotland Yard.
Two hours into the live televised appearance, the proceedings were interrupted briefly when a man tried to strike Rupert Murdoch with white foam in a pie tin. The assailant, who was later revealed to be comedian and activist Jonnie Marbles, was wrestled away by witnesses -- including Murdoch's wife, Wendi Deng -- and taken into police custody.
Both Rupert and James Murdoch continued their testimony about 10 minutes later.
The octogenarian Murdoch emphasized that the "News Of The World" -- one of the properties of his News Corporation empire and the now defunct tabloid newspaper that has been accused of hacking into the phone voicemails of hundreds of celebrities, politicians, journalists, and victims of terrorist attacks -- was only a small part of his business and repeatedly denied that he was aware of its inner workings.
He said he does not feel personally responsible for the voicemail hacking, adding that senior executives of the corporation were not aware of any criminal activity before the allegations became public earlier this month.
"We felt ashamed at what happened [at the 'News of the World'] and felt we ought to bring it to a close," Rupert Murdoch said.
James Murdoch, the deputy chief operating officer of News Corporation, opened the proceedings before the Select Committee on Culture, Media, and Sport by apologizing for the actions of his employees.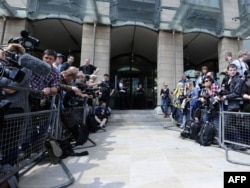 Journalists waited outside Portculis House in Britain's Houses of Parliament as the Home Affairs Select Committee prepared to hear evidence on the phone-hacking scandal on July 19.
"First of all, I would like to say as well just how sorry I am and how sorry we are to, particularly, the victims of illegal voicemail interceptions and to their families," he said. "It is a matter of great regret -- of mine, my father's and everyone at News Corporation. And these actions do not live up to the standards that our company aspires to everywhere around the world."
When asked flat out if he considered himself personally responsible "for this fiasco," Murdoch replied simply: "No."
The elder Murdoch countered that the "News Of The World" was only one of the properties in his vast News Corporation empire, "less than 1 percent" of his company. He said allegations that its staff hacked into the phone voicemails of thousands of people -- including fallen soldiers, terror and murder victims, members of the royal household, and politicians -- were a part of its inner workings of which he had no knowledge.
He said those responsible were "the people that [he] trusted to run it, and then maybe the people they trusted."
Murdoch said they had "behaved disgracefully and betrayed the company" and him, but said he was "the best person to clean this up."
Later, reading from a prepared statement, he said: "I would like all the victims of phone hacking to know how completely and deeply sorry I am. Apologizing cannot take back what has happened. Still, I want them to know the depth of my regret for the horrible invasions into their lives. I fully understand their ire and I intend to work tirelessly to merit their forgiveness."
The affair derailed Murdoch's bid to take control of British Sky Broadcasting and has dealt a blow -- both financially and in the public eye -- to his international media empire.
Rupert Murdoch also told the committee there was no proof that his tabloid hacked the phones of 9/11 victims, a key allegation being investigated by the FBI that could threaten his U.S. operations.
"We have seen no evidence of that at all and, as far as we know, the FBI hasn't either," Rupert Murdoch said. "If they do, we will treat it exactly the same way as we treat it here. And I cannot believe it happened to anyone in America."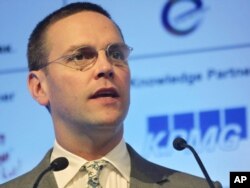 James Murdoch (file photo)
James Murdoch apologized to the Select Committee on Culture, Media, and Sport for the actions of his employees, saying "it is a matter of great regret."
And he rejected the behavior of those accused of wrongdoing.
"The codes of conduct of News Corporation globally, for our employees, journalists, or otherwise, is very clear: that breaking the law is a very, very serious matter and people who are law-breakers should be held to account," James Murdoch said. "And in a matter of something like phone-hacking or, topically, payments to the police and things like that -- we just don't think they should have any place in our business."
He added, "It is our determination to put things right, to make sure these things do not happen again and to be the company that I know we have always aspired to be."
Several people were removed from the packed hearing room as testimony began for holding up posters that read "Murdoch wanted for news crimes." Demonstrators held a vigil outside the building where the hearing was taking place.
Following testimony by the two Murdochs, another News Corporation executive in the scandal spotlight faced the committee.
Forty-three-year-old former News International Chief Executive Rebekah Brooks, who edited the "News of The World" during the years some of the most serious hacking activities are said to have taken place, added her own words of regret.
"I would like to add my own personal apologies to the apologies that James and Rupert Murdoch have made today," said Brooks, who was arrested, questioned, and released without charge last week. "Clearly, what happened at the 'News of the World' and certainly when the allegations of voicemail intercepts of victims of crime -- it is pretty horrific and appalling."
Brooks admitted to knowing that the tabloid used private investigators in its efforts to find information for stories, saying that "every paper in Fleet Street" did the same.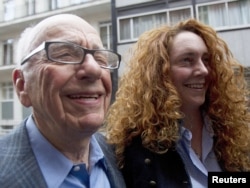 News Corporation CEO Rupert Murdoch with Rebekah Brooks in central London on July 10.
But Brooks denied that she ever paid or authorized payments to members of the British police in exchange for information.
The scandal has laid bare the cozy relationship between the "News of the World" and the Metropolitan Police, with allegations that police shared confidential information on cases and people with reporters in exchange for payments and favors.
Metropolitan Police Chief Paul Stephenson resigned after being linked to former "News of the World" deputy editor Neil Wallis. Assistant Commissioner John Yates, who refused in 2009 to reopen the police investigation into phone hacking, has also stepped down.
Stephenson admitted on July 19 that more than a dozen current and former members of Murdoch's British media empire have landed jobs with the London police department at one time of another, further evidence of potentially damaging ties between the tabloid and Scotland Yard.
The affair has also embroiled Prime Minister David Cameron, who has been criticized for appointing former "News of the World" editor Andy Coulson as his communications chief.
The scandal has now crossed the Atlantic and become a matter of federal criminal investigation in the United States, where Murdoch's company owns several media outlets, including Fox Broadcasting and "The Wall Street Journal."
The FBI has opened an investigation into whether employees of News Corporation tried to obtain voicemails and telephone records from victims of the September 11, 2001, terror attacks.
The Justice Department initiated the action at the request of four U.S. senators, who believe the Foreign Corrupt Practices Act may have been violated.
"The New York Times" reported that Rupert Murdoch has hired "one of the most aggressive criminal defense lawyers in the country," Brendan V. Sullivan Jr. of the firm Williams & Connolly, to represent him in the case.
with additional agency reports