A second senior Libyan official has resigned his post in Muammar Qaddafi's government in as many days.
Ali Abdel-Salam al-Treki, a former foreign minister and the current rotating president of the UN General Assembly, had been named to represent Libya at the United Nations after a wave of defections early in the uprising.
But Treki, who is currently in Cairo, said in a statement posted on several opposition websites on March 31 that he's not going to accept that job or any other.
"We should not let our country fall into an unknown fate," he said in the statement. "It is our nation's right to live in freedom, democracy, and a good life."
Koussa Defects
On March 30, Libya's foreign minister, Moussa Koussa, arrived in London and announced that he had also quit Qaddafi's regime.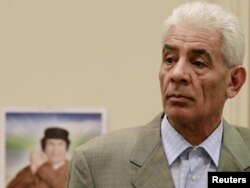 Former Libyan Foreign Minister Moussa Koussa
Foreign Secretary William Hague said that Koussa, a senior figure in Qaddafi's government who is credited with bringing Libya back to the international community after years of sanctions, was resigning from his post.
Hague said that Koussa -- who has been linked to the 1998 Lockerbie bombing of a U.S. passenger plane -- would not be offered immunity from prosecution. But he encouraged others to abandon Qaddafi -- saying that Koussa's resignation showed the regime is "crumbling from within."
"He traveled here under his own free will," Hague said. "We encourage those around Qaddafi to abandon him and embrace the better future for Libya that allows political transition and real reform that meets the aspirations of the Libyan people."
Libya's justice and interior ministers resigned early in the conflict to protest Qaddafi's harsh response to the revolt against his four-decade rule.
Correspondents say the decision by these officials to abandon Qaddafi could help turn around the fortunes of Libya's antigovernment rebels, who have beaten a rapid retreat from former strongholds along the eastern coast after a lightning strike by government forces.
Koussa, who is Western-educated and once headed the country's secret services, could share precious intelligence on how to bring down Qaddafi.
British Prime Minister David Cameron said Koussa's defection reveals much about what's going on inside Qaddafi's government.
"The fact that [Moussa Koussa] has decided to leave and effectively defect and give up his role I think speaks volumes of what's happening in that regime," Cameron said. "We've been appealing to people around Qaddafi and saying, 'If you don't want to go down with this regime that is doing dreadful things to its own people, then leave now, split away now, give up now.' And it is heartening that someone has done that."
NATO Opposed To Arming Rebels
Meanwhile, the head of NATO has said the alliance does not support U.S. and British suggestions that the UN mandate for the international operation allows for arming Libyan rebels.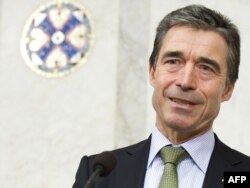 NATO Secretary-General Anders Fogh Rasmussen says protect but not arm civilians.
NATO chief Anders Fogh Rasmussen, speaking in Stockholm on March 31, said NATO is committed to fully implementing the UN Security Council resolution, but that "we are there to protect the Libyan people, not to arm people."

Additional hope for Libya's beleaguered insurgency came in the form of media reports on March 30 that U.S. President Barack Obama had authorized covert support for the rebels. The reports said Obama had signed an order to authorize secret operations by the Central Intelligence Agency (CIA).

"The New York Times," citing unnamed U.S. officials, said the CIA had sent operatives to Libya to gather intelligence that could assist the opposition after the agency's station in Tripoli was forced to close.

At a hearing in Congress, U.S. Defense Secretary Robert Gates said he couldn't comment on CIA activities. He repeated Obama's vow not to send U.S, ground forces into Libya but acknowledged that opposition fighters need help to withstand the onslaught from government forces, and said the White House is still considering whether to supply rebels with arms.

Their biggest need, he said, is training. "The truth is in terms of providing that training, in terms of providing assistance to [Libyan rebels], frankly, there are many countries that can do that," he said. "That's not a unique capability for the United States and, as far I'm concerned, somebody else should do that."

Gates also said he expects the NATO-led campaign against Qaddafi's regime to eventually lead to the strongman's ouster.

"Deposing the Qaddafi regime, as welcome as that eventuality would be, is not part of the military mission," he said. "In my view, the removal of Colonel Qaddafi will likely be achieved over time through political and economic measures and by his own people."

Testifying alongside Gates was Admiral Mike Mullen, the chairman of the Joint Chiefs of Staff, who said NATO forces have "fairly seriously degraded" Qaddafi's military capabilities, air-defense capabilities, and command and control capabilities.

Written by Claire Bigg and Heather Maher, with agency reports