White House Announces Final Obama News Conference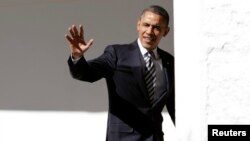 The White House says that President Barack Obama will hold his final news conference on January 18, two days before he leaves office.
Spokesman Josh Earnest announced the news conference on January 13, but did not give a specific time for the event.
Obama will leave the presidency on January 20, handing over power to Republican Donald Trump.
Based on reporting by AFP and Reuters