WATCH: Georgian riot police clashed with opposition protesters outside the parliament building in Tbilisi, leaving two dead and dozens injured on both sides.
Five days of opposition protests in Georgia came to a violent end overnight as riot police used tear gas, water cannon, and rubber bullets to disperse demonstrators.
The authorities said two people were killed by cars fleeing from the clashes, which began shortly after midnight as Interior Ministry squads moved in to clear protesters who had gathered around the parliament building.
Dozens of people were injured.
Since May 21, protesters have gathered to call for the ouster of President Mikheil Saakashvili, who they say has become increasingly authoritarian and neglectful of ordinary Georgians.
On May 25, the protesters moved en masse on the parliament building with the aim of blocking preparations for today's military parade marking Georgian independence.
By late evening, many at the rally had drifted away. But Interior Ministry spokesman Shota Utiashvili said those who remained had turned violent, using metal rods and homemade shields to attack police brought in to disperse the demonstration after its permit expired at midnight.
"The police had to use force. Part of the demonstrators resisted violently," Utiashvili said. "Part of the demonstrators fled from the scene with the cars through the crowd, which caused unfortunately death of one policeman."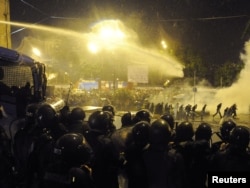 Police use water cannons and tear gas during clashes with protesters in Tbilisi early on May 26.
Burjanadze Accusations
The Interior Ministry has released a
video
they say shows the moment at which a vehicle in a convoy of cars struck and killed a policemen before fleeing the scene.
Utiashvili later added that a protester had also died after being struck by a car in the convoy. (A photograph taken by a protester appears to show another demonstrator who died after being severely beaten by riot troops. Police have yet to comment.)
Ministry officials claim one of the cars in the convoy was carrying either the protest's main organizer, opposition leader Nino Burjanadze, or her bodyguards.
Burjanadze, a former ally of Saakashvili's during the 2003 Rose Revolution, denied the claim, and accused police of taking her bodyguards and her son, Anzor Bitsadze, into custody along with dozens of protesters.
"As was expected, a masked man approached us and, without any explanations, detained all my bodyguards and my son," Burjanadze said. "They have not done anything wrong at all. They were protecting me all the time. They did not let them beat me, of course, and that was it.
"I was the one who resisted police. Why did they not take me? Why did they leave me here?" she asked. "I warn them, my son had not been beaten before the detention."
Confrontation With Government
Saakashvili appeared on national television today to defend the actions of the government troops and to emphasize his commitment to human rights.
"Every citizen has the right to freedom of speech and expression, but what has been happening in the past few days has had nothing to do with freedom of speech," he said.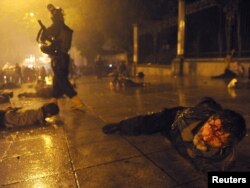 Georgian police detain protesters during clashes in front of the parliament building.
The five-day rally was organized by Burjanadze's People's Assembly, an opposition grouping led by high-profile intellectuals and artists. Although the demonstrations started strong with crowds as large as 10,000 people, by mid-week they had dwindled to just a few thousand and occasionally as few as 200.
The mainstream opposition groups, which favor a more moderate strategy of government engagement, steered clear of the protests.
But Burjanadze and her allies were briefly joined by the more radical Georgian Party, which called for an Arab-style "Day of Rage" to oust Saakashvili, and hailed the planned return of a presidential nemesis, former Defense Minister Irakli Okruashvili, from exile in France.
But both plans quickly fizzled out amid reported discord with Burjanadze.
'Punitive Operation'
Few in Georgia appear to see Burjanadze -- or, in fact, any opposition group -- as a serious threat to Saakashvili, who is set to step down when his second presidential term expires in 2013.
But the government has gone to considerable lengths to portray Burjanadze's movement as a security threat, with the Interior Ministry releasing a
video
on May 25 they say shows demonstrators planning to violently resist the police and use Molotov cocktails to set fire to police vehicles.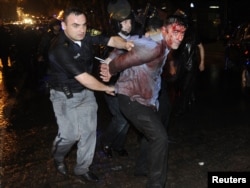 A bloody protester is led away by police.
Opposition supporters, meanwhile, have posted numerous videos showing riot troops violently
beating unarmed protesters
, and bruised and bloodied demonstrators lying prone under a driving rain.
Burjanadze says it is the government, and not her supporters, who present the true threat to ordinary Georgians.
"There are a lot of injured people because the authorities conducted, how to say it -- a punitive operation," Burjanadze said. "It was not an action aimed at, as they say 'freeing the square.' It was purely a punitive operation."
with agency reports