WATCH: As thousands of protesters gathered in downtown Minsk soon after the polls closed on December 19, security forces in antiriot gear forcibly dispersed the crowd. Hundreds were reportedly detained.

By RFE/RL

MINSK -- Authorities in Belarus say President Alyaksandr Lukashenka has won a landslide reelection victory to a fourth term, in a vote marred by the detention of opposition candidates and clashes between police and demonstrators.

The Central Election Commission has reported official results saying that the authoritarian Lukashenka, who has ruled the former Soviet republic since 1994, won the December 19 election in the first round with 79.67 percent of the vote.

Earlier reports said at least three opposition candidates who ran against Lukashenka were detained by authorities, and unconfirmed reports said a fourth candidate, Uladzimer Nyaklyaeu, was removed by security personnel from a hospital where he been taken for treatment of injuries suffered in clashes with police.

The opposition protest, accusing the authorities of engineering a massive electoral fraud in support of Lukashenka, briefly grew to several tens of thousands of people, some of whom tried to storm the main government building, breaking windows and glass doors.

Riot police repelled the protesters, and dozens of people were reported injured in violent clashes. By late in the evening, police had cleared Independence Square in central Minsk of all protesters.

Presidential candidate Uladzimer Nyaklyaeu lies on a street after he was beaten during a rally in Minsk on December 19.
In seeking his fourth term as president, Lukashenka ran against nine challengers -- each of whom faced administrative problems common for opposition candidates in Belarus.
Several opposition candidates claimed fraud and election irregularities just hours after voting began.
Those critics include Andrey Sannikau, a former deputy foreign minister who quit that post in 1996 and went into opposition against Lukashenka.
"It is clear that the election commission will be announcing results in Lukashenka's favor," Sannikau said, adding that no candidate was likely to garner more than 50 percent of the vote in the first round without tampering.
"In any normal country, with so many candidates, such an election would automatically go to a second round. So if they tell us there is no second round, this means the results are a lie and fraudulent. We will protest against it."
RFE/RL's Belarus Service reported that discrepancies emerged in the number of early voters in 86 of around 250 locations in Belarus being cited by local election watchers from the Campaign For Fair Elections.
After casting his ballot, Lukashenka offered more of the disparaging language -- enforced by a security apparatus and courts seemingly bent on eliminating political competition -- that has led to his characterization by some as "Europe's last dictator."
PHOTO GALLERY: Police in Belarus beat demonstrators with batons and rounded up opposition leaders in a violent crackdown after an election on December 19 that returned incumbent President Alyaksandr Lukashenka for a fourth term with 80 percent of the vote.
"I don't have dialogue with bandits and subversives," he said on the topic of possible talks with opposition candidates, according to RFE/RL's Belarus Service. "I talk to normal opposition, and I have to admit that among the alternative candidates there are a few normal, reasonable people with their positions and their opinions. I already appreciate this."
He also downplayed any talk of major protests on election night, at October Square or elsewhere, warning of repercussions based on tough Belarusian laws that effectively curb public dissent.
"For what awaits those who support this action, read our laws," Lukashenka said. "Everything will be according to the law. It is the same for safety. Don't worry. There will be nobody at the square today."
Chilly Mood
Nyaklyaeu was widely expected to finish a distant second behind Lukashenka. He said on the eve of the vote that the only mechanism available to oppose fraudulent elections was to attend the October Square demonstration after the vote.
Another presidential candidate, Mikalay Statkievich, told RFE/RL he did not cast a ballot because the run-up to the vote was neither free nor fair.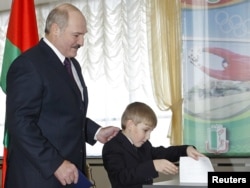 President Alyaksandr Lukashenka votes alongside son Nikolay in Minsk on December 19.
"Those who hoped for some kind of liberalization, some kind of second round, I think they have made a big mistake," Statkievich said. "We have no other choice but to force them into democracy, and there is only one instrument for that: the square."
Correspondents in Belarus had wondered whether political fervor was in short supply amid freezing temperatures on the snow-filled streets of Minsk.
Poor Record
The European Union, the United States, and Russia have all struck deals with the Belarusian leader in recent weeks, signaling a possible willingness to
grudgingly accept the heavy-handed president
.
The European Union, trying to loosen up Lukashenka's authoritarian rule, has been dangling the prospect of financial aid for Belarus if the vote has at least a veneer of fairness.
Brussels will take its cue from 400 monitors from the Organization for Security and Cooperation in Europe (OSCE) who have spread out across the country and are to report on December 20 about the conduct of the election.
The findings of the OSCE monitors -- along with Lukashenka's margin of victory and the way security forces handle opposition protests -- could determine how far the European Union decides to engage Belarus in the future.
The OSCE has never recognized a Belarusian vote as having met democracy or fairness standards.
Meanwhile, Lukashenka appeared to have repaired relations with his chief benefactor, Russia. Those ties have been frayed by a falling out with the Kremlin in recent years. But Lukashenka appeared to patch things up with the Kremlin last week when Russia agreed to drop duties on oil exports to Belarus and keep natural gas prices for Belarus unchanged next year.
Moscow has been angry about several foreign policy snubs committed by Lukashenka. That raised hopes among EU officials that Lukashenka might open up the Belarusian economy and loosen his political grip in return for EU financial support.
with agency reports