Abdul Wahid, a young farmer in Afghanistan's southern Kandahar Province, has mixed feelings about the Taliban's expulsion from his village.
Just months ago, members of the insurgent group tormented Wahid and fellow villagers eking out a living in the fertile Arghandab valley, west of Kandahar city. The powerful homemade bombs that litter fields and orchards throughout the region serve as a poignant reminder of the Taliban presence.
Wahid, 25, says the Taliban used a compound behind his house to make and distribute bombs. Most of the insurgents, he claims, came from neighboring Helmand Province and from Pakistan and all employed scare tactics against civilians.
One method used by the Taliban was to accuse locals of spying for the government, Wahid says. But he recalls that it didn't take much for the insurgents to resort to violence.
"They used to ask for bread and shlombe [a yogurt drink]. Whenever I refused, they would knock on my door at night," he says. "Then they would tie my hands and feet and cover my eyes and would lock me inside a metal container or a mosque.
"The elders and mullahs in the village would get me freed after arguing with the Taliban and shaming them for locking me up for refusing to give them food," Wahid continues. "They killed many because of refusing to give them bread and shlombe."
Orchard Destroyed
But the relief Wahid felt after a much-publicized offensive conducted by NATO and Afghan government troops pushed the Taliban from Kandahar last year is tempered by the toll the joint effort took on his livelihood. Part of Wahid's orchard was flattened by heavy military vehicles, destroying hundreds of fruit trees. Two of the water pumps he depends on to irrigate his soil were destroyed during chaotic fighting.
In the hope of garnering enough compensation to restore their lives, Wahid and fellow villagers have spent days wading through bureaucracy at various government offices in Kandahar. But while "our losses run into hundreds of thousands of [Afghanis]," Wahid says, "they are offering us [only] thousands."
If the ultimate objective of the months-long offensive in Kandahar was to win over the hearts and minds of locals, then their continued skepticism and anticipation of a Taliban return points to failure.
The operation was seen as a bold new approach in that it involved NATO and Afghan forces working in concert to establish security by taking over rural Taliban strongholds in the vicinity of Kandahar.
The effort, launched in the summer, appeared to have met its initial goal of ridding the provincial capital and its surrounding areas of Taliban fighters by late fall. But today, locals continue to complain of being caught in the crossfire between the Taliban and NATO troops. Combined with Kabul's failure to deliver promised security, services, and justice, this has prevented residents of the region from openly siding with the government. And this threatens the future of employing such a people-centric counterinsurgency approach, despite early optimism that it could bring long-elusive security throughout southern Afghanistan.
Lieutenant Colonel Web Wright, a spokesman for the NATO-led International Security Assistance Force in Kandahar, says that ISAF continues to expand the security bubble in regions cleared of insurgents. He says that the killing and capturing of the mid-level Taliban leaders in the region has weakened the insurgency, and that coalition troops are supporting the Afghan authorities in improving civilians' quality of life. ISAF has so far spent some $20 million in compensation and cash for work projects.
Sustaining the military gains in the long-term, according to Wright, depends on the performance of ISAF's Afghan partners.
"We Westerners will never 100 percent completely understand the tribal dynamics and what is right and what is [wrong], just the nuances of Afghanistan," he says. "It is much better when that comes from the Afghan government."
Local observers agree.
Mohammad Omar Sathey, a Kandahar-based analyst, says that the offensive has succeeded in that it takes local conditions into account. Intelligence information is gathered from indigenous sources, he points out, and civil-military cooperation has resulted in fewer civilian casualties. Tactical changes, such as the ending of house searches by international troops, have led to more acceptance among locals of the military campaign.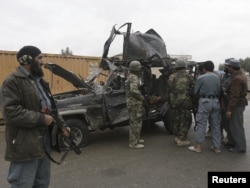 The deputy governor of Kandahar Province was recently killed in a suicide attack.
But Sathey adds that the lack of an accountable, credible local government that can deliver on its promises continues to pain Afghans. Southern Afghanistan, he adds, is unlikely to see peace until this is addressed.
"It will be very difficult to establish peace here [by winning over people] as long as our government is unable to win the trust of the masses," he argues.
"It needs to begin a solid reconstruction process and stop siphoning off aid money into corrupt Afghan and foreign pockets," he adds. "We also need to get rid of the [drug] mafia being imposed on us here."
Ahmad Wali Karzai, the younger half brother of President Hamid Karzai, has dominated local politics in southern Afghanistan over the past decade without holding a formal administrative position. With long lines of petitioners thronging his provincial council offices every day, Karzai dwarfs provincial Governor Toryalai Wesa -- a former academic in Canada. And local observers suggest that Karzai's patronage ensures that networks of former anti-Soviet guerillas dominate the local administration.
This, critics claim, is the main problem in southern Afghanistan. But others stress that the realities of the situation must be taken into account.
Slow Reconstruction
Ghulam Jilani Homayun, a former deputy governor of Kandahar, says that the slow pace of reconstruction prevents people from seeking government help. Homayun, a close confidant of the younger Karzai, also argues that one cannot ignore the status that former jihadists enjoy in their communities and should not be shut out of local politics.
Homayun sees improvements in the overall situation in Kandahar but says success could be accelerated by engaging more old hands in the region instead of sidelining them, as demanded by independent experts and rights campaigners.
"If we see more changes in Kandahar, we will see an improvement in the overall situation," he says. "If we don't see changes in the [provincial] leadership, we won't see major improvements and changes will look better only in relative terms."
Felix Kuehn, a German writer who lives in Kandahar, says that the drop in violence in the Kandahar countryside can be attributed in part to the seasonal lull in fighting. Many of the Taliban leaders and foot soldiers, he says, have moved into safe havens in Pakistan across the border after their networks suffered losses in the offensive. But he suggests that security in the city of Kandahar itself has significantly deteriorated because many Taliban moved into the city. In one worrying sign, separate suicide bombings claimed the life of the deputy governor of Kandahar this week while the city's police chief survived another.
Kuehn says entire villages on the outskirts of Kandahar were razed due to fears of booby traps and mines late last year, but that the people have yet to see meaningful reconstruction. Kuehn adds that economic and infrastructure development has yet to be followed by building sustainable government institutions, which can deliver security and justice.
Only this, he argues, will give people the heart to back the government and believe in the promises made by international forces.
"The counterinsurgency strategy hinges not on the clearing part or the fighting part of the operations. It's really what happens afterward which decides how effective the strategy is going to be," he says. "After all, the fight here is about the support of the general public. Can we reform and can we change the underlying causes of the conflict in southern Afghanistan? That's a big question."
Back in the desolate plain outside Kandahar, Lalai, another Arghandab farmer, is among the hundreds of displaced rural families waiting for their government to restore their livelihoods. He counts his losses and hopes the government will help.
"My brother, they should build schools and clinics for us and help in rebuilding our irrigation channels," he says. "We have lost everything and, as you can see, we live in a desert. We have lost our houses, orchards, and irrigated lands."