Majlis Podcast: New Dynamics Emerge In Kyrgyz Election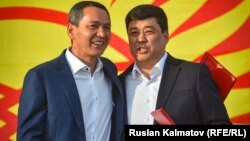 In this latest Majlis podcast, we return to Kyrgyzstan's presidential election campaign.
Much has happened since the Majlis looked at this election just two weeks ago* and we felt it was important to return to the topic.
Muhammad Tahir, RFE/RL's media relations manager, moderated the discussion on the latest developments in Kyrgyzstan's presidential campaign.
We were fortunate to have two former members of Kyrgyzstan's parliament joining this Majlis session.
From Boston, Bakyt Beshimov, professor at Northeastern University, took part. From Bishkek, Ravshan Jeenbekov of the Ata-Meken party participated. I was happy to be in the studio listening to those two but I said a couple of things also.
This recent report in Qishloq Ovozi provides some of the background to the changes since mid-September that are part of this latest discussion at the Majlis.
Listen to the podcast above or subscribe to the Majlis on iTunes.
*This Majlis session was recorded before news that former Kyrgyzstan party leader Kanatbek Isaev was detained on suspicion of plotting a coup.
About This Blog
Qishloq Ovozi is a blog by RFE/RL Central Asia specialist Bruce Pannier that aims to look at the events that are shaping Central Asia and its respective countries, connect some of the dots to shed light on why those processes are occurring, and identify the agents of change. Content will draw on the extensive knowledge and contacts of RFE/RL's Central Asian services but also allow scholars in the West, particularly younger scholars who will be tomorrow's experts on the region, opportunities to share their views on the evolving situation at this Eurasian crossroad. The name means "Village Voice" in Uzbek. But don't be fooled, Qishloq Ovozi is about all of Central Asia.
Latest Podcasts