In this week's episode, we delve into the controversy surrounding a draft law now being debated in Afghanistan that many think would reverse freedoms made in the country since the fall of the Taliban in 2001.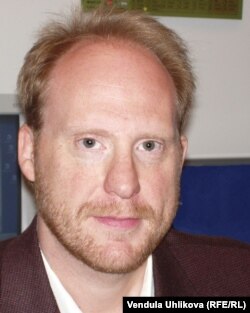 Grant Podelco
Under the Taliban, morality police patrolled Afghan weddings. The draft law would restrict some aspects of the lavish ceremonies and make certain that ladies dress modestly and that men and women do not mix. Mustafa Sarwar, a broadcaster with RFE/RL's Radio Free Afghanistan, has that story.
Brian Whitmore
snagged a few minutes with acclaimed American author Don DeLillo during DeLillo's appearance at the Prague Writer's Festival recently. DeLillo speaks eloquently about why writers should be "bad citizens" and the particular challenges writers face in RFE/RL's broadcast region.
Alsu Kumasheva of RFE/RL's Tatar-Bashkir Service reports on the tireless efforts of one woman in Kazan, the capital of the Russian Republic Tatarstan, who has devoted herself to preserving and promoting her native tongue and its culture.
Excerpt from Gabdulla Tuqay's poem "Shurale," in both Tatar and English
And Hoshyar Zebari, the foreign minister of Iraq, visited RFE/RL's Prague headquarters and defended his country's military action against Camp Ashraf, a raid which the UN said resulted in the deaths of 34 people. He also speaks to the uprisings sweeping the Arab world.
This week's host is
Grant Podelco
.
The music featured in this week's show includes "Definition" by Kruder & Dorfmeister; "From The Underworld" by Anselm C. Kreuzer; "Mustt Mustt" by Nusrat Fateh Ali Khan; and "Ahesta Buro" by Ahmad Wali.
Listen to or download the episode below or
subscribe to "The Blender" on iTunes
. For previous episodes,
click here
.
RFE/RL's The Blender -- 4/29/11