WATCH: There was a heavy police presence in and around Sahil Park, in downtown Baku, as RFE/RL's Azerbaijani Service tried to videotape the opposition attempt to stage an unsanctioned rally on April 17.
Police in the Azerbaijani capital have come out in force and detained dozens of people to prevent efforts by the opposition to stage an antigovernment rally at a downtown park, RFE/RL's Azerbaijani Service reports.
It is at least the third time since March 12 that authorities there have stifled opposition plans to demonstrate unhappiness with the country's leadership.
Some activists marched through the streets chanting pro-democracy slogans despite the clampdown and fears of official reprisals.
The Public Chamber, which unites political opponents of President Ilham Aliyev and his administration, said around 60 people had been detained. That figure could not be independently verified, but RFE/RL's Azerbaijani Service said the detainees included a young girl who appeared to be upward of 5 years old and was among the protesters.
WATCH: A young Azerbaijani girl and her mother are detained after the young girl chants "Freedom!" and "Resignation!" near the site of the clampdown on the unsanctioned pro-democracy rally on April 17:
An RFE/RL correspondent said three Swedish journalists who had recently arrived to report on Azerbaijan's economic situation and Azerbaijani-European relations were detained by police and later taken out a back door to an office for foreigners.
Preemptive Action
Police appeared to have closed down Sahil Park to keep any demonstrators from reaching the planned meeting point for the rally.
Baku city council officials told RFE/RL correspondents on the scene that traffic was being restricted because the city was trimming trees in the area.
WATCH: Police detained scores of suspected protesters on April 17:
The ruling Yeni Azerbaijan Party's Mubariz Qurbanli told RFE/RL that journalists were "making a mountain out of a molehill" and said opposition planners had failed in their effort.
Qurbanli said there had been no sign of any antigovernment protest and added that city residents were against any opposition protest.
Authorities had erected concrete posts, set up police cordons, and parked marked vehicles to clog the main roads leading to Sahil Park.
Authorities tried to prevent journalists from filming in the area, using force in some cases.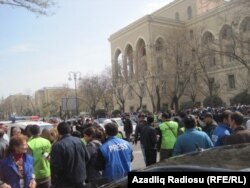 Police, protesters, press, and onlookers near the park where the opposition called for a gathering on April 17
Foiled Again
The Public Chamber tried to obtain permission to hold the latest rally, but city officials offered only venues on the outskirts of the city.
The opposition has attempted to protest several times in recent weeks, but police and security forces have quickly shut down such events or stifled them before they could begin.
Some Public Chamber activists had been summoned by authorities and warned on April 15 that any protest outside permitted areas would be dispersed and they would be held accountable for what took place. Other Public Chamber members received administrative restrictions ahead of the April 17 event.
The Public Chamber has issued a list of key reforms it is seeking, including early national elections, a new draft constitution, the elimination of legal and executive obstacles to basic rights and freedoms, and other ambitious goals.
Rights group Amnesty International on April 15 urged Aliyev's government to "
stop targeting peaceful protesters
" and condemned "closed hearings" at which it quoted local rights groups saying activists are being imprisoned "on the basis of no or very little evidence."
written in Prague based on reporting in Baku by RFE/RL's Azerbaijani Service; with additional wire reports