The Happiest Member Of The Rahmon Family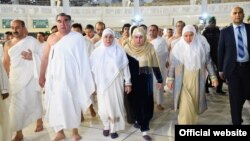 The nine children of Tajik President Emomali Rahmon, seven daughters and two sons, are doing quite well.
For example, oldest daughter Ozoda Rahmon, 40, is the head of the Tajik president's executive office; third daughter Rukhshona Rahmonova, 26, is the deputy head of the Foreign Ministry's international organizations department; sixth daughter Zarina Rahmon, 23, is deputy head of Tajikistan's largest commercial bank, Orienbonk; and oldest son Rustam Emomali, 30, is the mayor of Tajikistan's capital, Dushanbe.
They undoubtedly have good lives, but the member of the family who seems to be having the most fun lately is President Rahmon's second son, Somon Emomali. Or at least the photos and videos posted on his Instagram page indicate this 18-year-old is having a great time.
But, before you look, remember: Tajikistan has the lowest average monthly salary of the former Soviet republics -- the equivalent of about $175. Some people, especially some pensioners, are living on much less than that.
Officially, Tajikistan's population is some 8.6 million, out of which probably more than 1 million working-age citizens are migrant laborers in Russia or Kazakhstan, legally and illegally, because they could not find decent employment in Tajikistan. Only about a half of Tajikistan's population has access to clean drinking water.
And, to be fair, Somon does not have a wristwatch collection that could compare to the wristwatches Ibabekir Bekdurdyev, the 28-year-old husband of one of Turkmen President Gurbanguly Berdymukhammedov's nieces, owns.
RFE/RL's Uzbek Service contributed to this report. The views expressed in this blog post do not necessarily reflect the views of RFE/RL
About This Blog
Qishloq Ovozi is a blog by RFE/RL Central Asia specialist Bruce Pannier that aims to look at the events that are shaping Central Asia and its respective countries, connect some of the dots to shed light on why those processes are occurring, and identify the agents of change. Content will draw on the extensive knowledge and contacts of RFE/RL's Central Asian services but also allow scholars in the West, particularly younger scholars who will be tomorrow's experts on the region, opportunities to share their views on the evolving situation at this Eurasian crossroad. The name means "Village Voice" in Uzbek. But don't be fooled, Qishloq Ovozi is about all of Central Asia.
Latest Podcasts