Kumtor Gold Mine Appears To Be In Bad Shape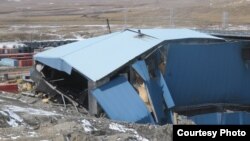 Kyrgyzstan's Kumtor gold mine seems to be falling apart, literally.
Surrounded by scandal since the early days of the project's history, it appears that, as the Kyrgyz government attempts to acquire more shares of this cash cow on its territory, there is need for some serious upgrading at the site.
RFE/RL's Kyrgyz Service, Azattyk, has received some photos of the facilities at Kumtor as they were in April 2013 and those pictures show some major housekeeping was in order.
Perhaps a quick bit of background before viewing. Kumtor is located some 4,000 meters above sea level in northeastern Kyrgyzstan's Tien Shan mountains. Conditions are so severe at that altitude that those working there are limited to several weeks at the site before being brought down to recuperate.
According to Kumtor Gold, the proven gold reserves at the site are some 4,841 metric tons of gold with probable reserves of some 80,345 tons. Kyrgyzstan registered 10.5 percent GDP growth in 2013, led by a production boost at the Kumtor mine (600,402 ounces).

Canada's Centerra is the operator of Kumtor. Centerra owns about two-thirds of the Kumtor project but the Kyrgyz government is seeking to raise its stake from roughly 33 percent to 50 percent with a possibility of increasing that to 67 percent in the future.
The project is a political lightning rod for Kyrgyzstan's opposition parties and movements. A cloud of scandal hangs over Kumtor and provides Kyrgyzstan's political opponents and government critics with opportunities to cast accusations at government officials and businessmen, and at the Canadian company.
The bottom line in these allegations is that Kyrgyzstan is getting ripped off and should be receiving more money from the gold found on its territory.
It is a charge that resonates with a population making an average monthly wage of $100.
So, with that as a background, here are some of photos from Azattyk. Tens of millions of dollars were spent on constructing these facilities that the Kyrgyz government will acquire a 50 percent stake in once the new agreement with Centerra is completed. One photo shows a huge tent made in China serving as the main processing area for the project.
-- Bruce Pannier, based on information from RFE/RL's Kyrgyz Service.
*NOTE: One comment posted under Azattyk's article claimed that the buildings in the photographs had been repaired since April 2013 but there are no current pictures to support or refute this assertion.
**Qishloq Ovozi will soon have articles from Franco Galdini and Ryskeldi Satke investigating some of the finances of Kumtor.
About This Blog
Qishloq Ovozi is a blog by RFE/RL Central Asia specialist Bruce Pannier that aims to look at the events that are shaping Central Asia and its respective countries, connect some of the dots to shed light on why those processes are occurring, and identify the agents of change. Content will draw on the extensive knowledge and contacts of RFE/RL's Central Asian services but also allow scholars in the West, particularly younger scholars who will be tomorrow's experts on the region, opportunities to share their views on the evolving situation at this Eurasian crossroad. The name means "Village Voice" in Uzbek. But don't be fooled, Qishloq Ovozi is about all of Central Asia.
Latest Podcasts