In the blockbuster Steven Spielberg film "Jaws," the shark's death was meant to convey an air of finality -- only for the man-eating fish to reappear in ever-more lethal forms in a series of increasingly desultory sequels.
It remains to be seen if the man nicknamed the "Shark" of Iranian politics can display similar powers of recovery and reinvention after a series of defeats that would sink even the most durable of political careers.
On March 8, Ali Akbar Hashemi Rafsanjani, a pillar of Iran's Islamic Revolution and one-time confidant of the late Ayatollah Ruhollah Khomeini, suffered arguably the biggest in a recent catalogue of indignities when he was forced to surrender the leadership of a powerful clerical body under a sustained onslaught from allies of President Mahmud Ahmadinejad.
The event seemed to herald the final defeat for Rafsanjani at the hands of Ayatollah Ali Khamenei, Iran's supreme leader. The two were once allies but have become increasingly estranged as Khamenei has sided with Ahmadinejad, with whom Rafsanjani has a long-running feud. The supreme leader's support is widely thought to have been instrumental in helping Ahmadinejad defeat Rafsanjani in the 2005 presidential election.
Engineered By Khamenei?
According to Mohsen Sazegara, a former founding member of Iran's Islamic Revolutionary Guard Corps (IRGC) now exiled in the United States, it was Khamenei who engineered Rafsanjani's removal as head of the Assembly of Experts, a position with the theoretical power to oversee the dismissal of the supreme leader.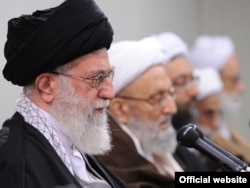 Supreme Leader Ayatollah Ali Khamenei addresses members of the Assembly of Experts
"[Khamenei] tried his best behind the curtain to push the members of the Assembly of Experts to vote for Mr. Mahdavi Kani, and based on internal sources, I have heard that [the] Revolutionary Guard's intelligence organization talked to more than 56 members of the Assembly of Experts," Sazegara said.
Rafsanjani's humiliation is a punishment for his refusal to condemn the mass protests against Ahmadinejad's bitterly disputed 2009 reelection, which reformist candidates Mir Hossein Musavi and Mehdi Karrubi allege was rigged.
He was previously removed from his time-honored role as Friday Prayer leader at Tehran University after giving a sermon condemning the brutal crackdown against the postelection protests and calling for the release of political prisoners.
Musavi and Karrubi have been under house arrest in recent weeks and -- according to their supporters -- may even have been taken to a prison facility after endorsing new public protests, following mass demonstrations that toppled authoritarian governments in Egypt and Tunisia.
Although Rafsanjani tried to steer a middle course between Khamenei and the opposition Green Movement, Sazegara said he believes he could soon find himself as ostracized as Musavi and Karrubi.
"Maybe after a while, he will be dismissed from the Expediency Council [a body headed by Rafsanjani that resolves disputes between parliament and the influential Guardians Council, which is made up of selected lawyers and Islamic jurists], he will be retired and he will be in his home," Sazegara said. "If he starts to talk about the events or criticize the situation, then he might be detained in his house like [the late] Ayatollah [Hussein Ali] Montazeri or Musavi and Karrubi, who have been arrested."
'Condolences' For Rafsanjani's 'Death'
The notion that Rafsanjani, a former president and powerful parliamentary speaker, could shrink into official nonperson status is not as far-fetched as it may sound. The day after he gave up his post in the Assembly of Experts, the hard-line Fars news agency -- which is close to the IRGC -- reported that hackers had posted a message on the Expediency Council website expressing condolences over Rafsanjani's "death." The subliminal message, apparently the work of pro-regime Internet vigilantes, was that Rafsanjani had suffered a political death and was irrelevant.
But the clearest sign that Rafsanjani is coming under pressure that could effectively banish him from the Islamic system has been the sustained harassment of his family.
One son, Mehdi, has exiled himself in London rather than face charges of involvement in the Green Movement protests, while another, Hashemi, recently resigned as head of Tehran's metro system, claiming that a campaign of budgetary warfare waged by the Ahmadinejad government was making his job impossible.
In the most notorious episode, his daughter Faezeh, a women's rights activist and opposition supporter, was labeled a "prostitute" and "whore" by hard-line vigilantes as she emerged from a funeral in Tehran. Video
footage of the incident has been posted on YouTube
.
The Uncomfortable Middle
Some observers believe Rafsanjani has been the architect of his own isolation by sticking to a middle ground that no longer exists in an increasingly polarized political landscape. But while some blame him for not throwing in his lot with the opposition, Scott Lucas, an Iran analyst with the EA World View website, believes that option has disappeared.
"The regime, at least in the short-term," he said, "has succeeded in decapitating the opposition...I think we've moved beyond that question in Iranian politics."
That verdict raises the question of whether Rafsanjani, at the age of 76, has any significant political future. Sazegara believes the high-flying political career which once saw Rafsanjani become the second most powerful man in Iran after Khomeini may have drawn to a close. But, he said, that does not mean we have heard the last of him:
"Because of his role in the Islamic Revolution and lots of facts that he knows about the secrets of the revolution," Sazegara said, "As a politician, he can be effective wherever he wants. He can talk about many things, many events, including many secrets about Ayatollah Khamenei."
Or put another way, the shark may be dead. But that doesn't mean it is safe to go back in the water.