WASHINGTON -- A military force comprised of troops from Gulf nations and led by Saudi Arabia entered Bahrain on March 14, where protests by Shi'ites against the ruling Sunni monarchy have intensified in recent days.
The island nation's main opposition group condemned the outside intervention as an "occupation" and said it will dangerously escalate the situation.
"We say to our brothers in the Gulf: Your army is welcome when our country faces danger from outside, but we will consider them an occupation [force] when you come to oppress the people," Ibrahim Sherif al-Sayd, a leader of the Shi'ite opposition group Al-Waad, told reporters in the capital, Manama.
According to The Associated Press, which spoke with a Saudi security official on condition of anonymity, the Gulf units that crossed the causeway connecting Bahrain with Saudi Arabia come from a special force within the six-nation Gulf Cooperation Council, which includes Bahrain, Saudi Arabia, Kuwait, Qatar, Oman, and the United Arab Emirates.
"The Gulf Daily News," which is close to Bahrain's rulers, said the outside forces have been told to protect sites like electricity stations and oil facilities. The incursion marks the first time foreign troops have entered a country caught up in the Arab world uprisings, which began last December.
The GCC's decision to intervene is being seen as a reflection of members' nervousness about their stability and their desire to prevent their regional nemesis, Shi'ite-ruled Iran, from gaining ground in Bahrain.
Concerns Over Iran
U.S. Defense Secretary Robert Gates traveled to Bahrain, which is home to the U.S. Navy's 5th Fleet, on March 12 to meet with King Hamad bin Isa al-Khalifa and Crown Prince Sheik Salman bin Hamad al-Khalifa, whom he advised to speed up the reform process.
Following his visit, Gates said the three men also discussed Iran and said he has concerns about Tehran benefitting from the unrest. "There is clear evidence that as the process is protracted, particularly in Bahrain, that the Iranians are looking for ways to exploit it and create problems," Gates said.
Hossein Amir Abdollahian, the director-general for Persian Gulf and Middle East affairs at Iran's Foreign Ministry, said foreign interference in Bahrain would only complicate the situation and called on Manama not to allow it.
In Washington, White House spokesman Jay Carney said the entry of Gulf forces into Bahrain does not constitute an "invasion." But he called on Saudi Arabia and other Gulf nations to refrain from using violence against antigovernment demonstrators.
"We are calling on the Saudis [and] the other members of the GCC countries, as well as the Bahraini government, to show restraint. We believe that political dialogue is the way to address the unrest that has occurred in the region -- in Bahrain and other countries -- and not to in any way suppress it," he said.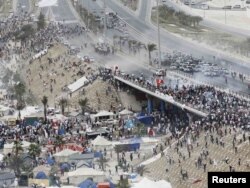 Antigovernment protesters confront riot police assembled on a flyover near Pearl Square in Manama.
On March 13, there were fierce clashes at Bahrain University between protesters and government supporters. In Manama's Pearl Square, security forces surrounded and fired tear gas at a tent compound filled with peaceful protesters.
Two protesters sustained serious head injuries and hospital officials said hundreds of people sought medical help after inhaling tear gas. It was the largest display of force since a brutal crackdown last month left four demonstrators dead.
'Defuse The Tension'
Speaking on March 14 in Paris before a meeting with U.S. Secretary of State Hillary Clinton, United Arab Emirates Foreign Minister Abdullah bin Zayed Al-Nahyan said the Bahraini government had asked the UAE "to look at ways to help them to defuse the tension."
He said his government has sent some 500 police officers, and added, "The Saudis are there as well. There are other Gulf countries which are [there] to support the Bahraini government and to get calm and order in Bahrain and to help both the Bahraini government and people to reach to a solution which is best for the Bahraini people."
Clinton was in Paris for a meeting of foreign ministers from the Group of Eight (G8) leading industrialized nations to discuss the crisis in Bahrain as well as Libya.
written by Heather Maher in Washington, with agency reports
Liveblog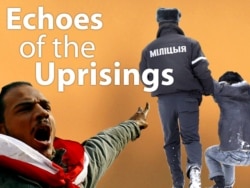 Tracking events and ideas convulsing the Arab world and with ripples around the globe, including RFE/RL's broadcast region.
Click here