WATCH: Opposition protesters in the Syrian city of Daraa set fire to the local headquarters of the ruling Baath Party on March 20, the third consecutive day of widespread demonstrations (video by Reuters)
.
Activists say hundreds of people protested against the government in Syria's southern town of Jassem today amid reports of renewed unrest in the city of Daraa after weekend clashes there killed at least one person.
Also today, human rights groups condemned the excessive use of violence by Syrian authorities against protesters, with Human Rights Watch's Sarah Leah Whitson accusing the government of having "no qualms" about "shooting dead its own citizens for speaking out."
Reports say government security forces on March 20 killed at least one person when they opened fire on thousands of protesters in Daraa, a city about 100 kilometers south of Damascus.
It was the third consecutive day of antigovernment protests there.
Several other people were also reported killed in clashes late last week.
Inspired by popular revolts in Egypt and Tunisia, the Syrian opposition has during the last month been organizing demonstrations to call for an end to President Bashar al-Assad's decade-long rule.
compiled from agency reports
Liveblog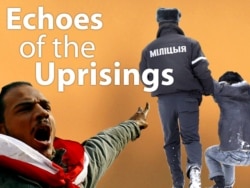 Tracking events and ideas convulsing the Arab world and with ripples around the globe, including RFE/RL's broadcast region.
Click here