Rock musicians in Kabul are refusing to let a major Taliban attack in the capital this week stop them from putting on the first rock festival in Afghanistan in more than 35 years.
Some venues that agreed to host Rock Central Asia events closed their doors to the musicians on the month-long festival's opening day on September 15.
The move is part of tightened security measures after Taliban militants on September 13 launched their most brazen attacks yet against foreign troops and embassies in central Kabul.
Undeterred, festival organizer Travis Beard rescheduled the opening event in Kabul -- a jam session and workshop that includes Western and Afghan musicians -- at a small cafe:
"Today's event was meant to be held at the Institut Francais d'Afghanistan," Beard told RFE/RL. "It was an opening event being done by Sound Studies, a group of musicians that use Afghan and Western music together."
"We were all happy to go ahead with the concert but they've closed their doors for their own [security] reasons [that have nothing to do with the rock festival].
"But we're continuing with a small concert in a local venue just because we've got people who want to come and see our music."
According to Beard, about a dozen Kabul events will go on "under the radar" during the next month using an "underground stealth fest" promotion strategy.
WATCH: Bands from Afghanistan and Central Asia descend on Kabul for the Rock Central Asia festival:
For security reasons, the "stealth concerts" are not being announced until just a few hours before a show.
Afghan rock fans are being informed by text message, e-mail, and social-network websites such as Facebook.
Meanwhile, in New York, a Brooklyn club called "The Hive" is replicating what is being called an "illegal rock bunker party" with special guests from Iran and Iraq on September 16.
Old-School Networking
Beard explained that rock musicians have been playing underground concerts in Kabul for years since the collapse of the Taliban regime, collectively building up a list of venues willing to host such events and a mailing list of Afghan music fans.
Beard's own Kabul-based expat band, White City, has toured every former Soviet republic in Central Asia as well as Pakistan and Afghanistan in recent years.
The tours have brought Beard into contact with musicians in Uzbekistan, Tajikistan, Turkmenistan, Kyrgyzstan, and Kazakhstan, as well as Afghanistan and Pakistan -- building up a region-wide network of like-minded artists who have been invited to play in Kabul as part of the festival.
You Might Also Like

...

Preparing A New Generation For The Ramadan Fast

Picking Up The Pieces In Kandahar
It is a method of network building that relies on the same "do-it-yourself" spirit of punk rock bands in the United States who built their own underground networks in the late 1970s and early 1980s -- a time before the worldwide web or Internet social networks when few mainstream music venues would allow punk rock bands to play.
Beard maintains that face-to-face networking has been crucial to organizing a truly regional rock music festival in Kabul.
"We basically went through and chose the bands -- the creme de la creme of what we saw in Central Asia. And we also chose up-and-coming bands. Not always the bands that already had record deals and were playing big venues," he said.
"We wanted to give small bands a chance. So, for example, in Uzbekistan we chose a funk/reggae dark disco band called 'Tears of the Sun.'
"In Kazakhstan we chose a nu metal band called 'Eklektika.' In Kyrgyzstan we chose a classic metal band. In Pakistan, we chose a folk-blues singer-songwriter duo called 'Poor Rich Boys.'
Maral, a singer-songwriter and bass player who lives in Tehran, is booked as the only solo musician performing in the Kabul festival. She will be playing electronica music.
Afghan groups include Kabul Dreams, an indie rock band from the capital; a blues rock band from Herat called Morcha; White Page, a four-piece rock band whose members are students at the Afghanistan National Institute of Music; and District Unknown, a Kabul quartet considered to be the first heavy metal band in Afghanistan.
Transglobal Rock Workshops
In addition to the concerts, the Kabul festival will include a series of music workshops to be conducted over the Internet from the United States by Brian Viglione, the drummer for popular Boston-based Brechtian punk cabaret duo "The Dresden Dolls."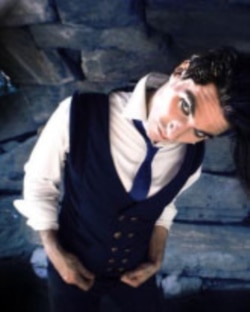 American drummer Brian Viglione
Viglione, who has also played drums for the bands "Nine Inch Nails" and "Gentlemen & Assassins," has been working as a "rock ambassador" for the festival in Europe and the United States.
"This is a festival to celebrate self expression through music and the fact that people are now slightly more able to develop a community based around rock music in Kabul," he says. "So this is bringing together some of the best talent from that region of the world."
"I was asked by a friend of mine who is involved in the festival if I would want to come and do drum workshops with the artists there who might be curious about careers in music or just my perspectives on playing and collaborating. And I was more than happy to get involved."
Viglione maintains that Afghan rock musicians are now in a very unique position in the world.
"In most countries, rock and roll has come and gone and it's not a new concept for a culture or society to digest" he says. "In Kabul, it's very new. They are an extremely small percentage of the populace in Kabul with the daring to go out and use this voice -- which is often perceived as very threatening by a majority of the public."
Viglione expects the workshops to be give-and-take exchanges, and he hopes to learn about complicated drum beats that seem to come naturally to Afghan percussionists -- like the polyrhythms used for the Afghan national dance, the Atan-i milli.
But he also expects there will be common ground because rock music is "one of those languages that transcends borders."
Viglione concludes that Western musicians can learn from the way rock musicians in Afghanistan and Central Asia cope with limitations they face trying to promote their music -- "the devices they are using to bring their music out in a way that doesn't seem like any threat, but hopefully is an empowering force in their community."
Also scheduled to take part in the music workshops from Kabul is Faisal Mustafa from the Iraqi heavy metal band Acrassicauda.