Russian President Dmitry Medvedev has consulted with the head of the Federal Security Service (FSB) after a large-scale militant attack in the country's restive North Caucasus region.
Medvedev spoke with Aleksandr Bortnikov after up to a dozen militants used grenades to attack the local FSB headquarters in Nalchik, the capital of the Kabardino-Balkaria region.
Police posts also came under machine-gun fire during the attack late on February 25.
No casualties were reported in the attack.
Highlighting Kremlin concern, Medvedev's North Caucasus envoy, Aleksandr Khloponin, has been put in charge of investigating the incident.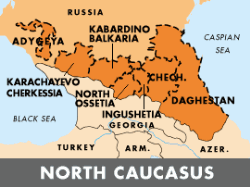 Kabardino-Balkaria has largely been spared the type of violence common in nearby Ingushetia and Daghestan.
However, three Russian skiers were killed there last week when Islamic militants stopped their tourist minibus and opened fire.
A website linked with the Islamist insurgency said they were killed for entering "the war zone."
compiled from agency reports