The Russian military says one of its servicemen has killed three people at a military air base in the country's west.
The incident occurred in the Voronezh region early in the morning of November 9, the Western Military District's press service said in a statement.
"A soldier on duty...attacked officers who had arrived to check the on-duty shift, took a gun from one of the officers, and fled the site. Three servicemen sustained lethal injuries as a result of the attack," the statement said.
Media reports later said that the soldier suspected in the attack had been detained by police.
The incident reportedly took place at the Baltimor military air base, which is under renovation.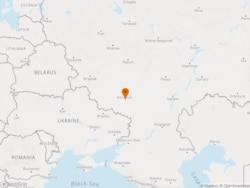 Sources were quoted as saying that a 20-year-old private, identified as Anton Makarov, argued with a major, snatched the officer's handgun, and shot him. Makarov then fired at a corporal and a private who rushed to assist the major.
Doctors at a military hospital in Voronezh said a soldier who sustained injuries in the shooting was being treated at the medical facility, according to the TASS news agency.
Early reports said the attacker had barricaded himself at the base.
Deadly shootings at Russia's military units often take place as the result of wide-spread hazing, which has been under the focus of human rights organizations for years.
In recent years, photos and video footage have been posted online by members of the Russian military that show the bullying of young recruits in the army.
In October 2019, a private shot eight fellow servicemen dead and wounded two other soldiers in a military unit in Siberia.
Investigations revealed that the incident was triggered by bullying.
With reporting by Interfax, RIA Novosti, and TASS