BELGRADE -- As the NATO bombing of Libya continues, Serbian ultranationalists are trying to stoke support for Muammar Qaddafi by portraying both Tripoli and Belgrade as twin victims of Western aggression.
The pro-Qaddafi campaign comes as Serbia today marks the 11th anniversary of the start of NATO's bombing campaign to end the Serbian crackdown on Kosovo. To mark the anniversary, air-raid sirens sounded out across Serbia today.
The efforts to link Serbia and Libya as victims of Western aggression is spearheaded by leaders of ultranationalist parties. But it also has echoes in the government's own ambivalent posture toward the UN-approved Libyan operation.
"I can say that we are deeply concerned and unhappy because of the current situation in Libya," Foreign Minister Vuk Jeremic said earlier this week.
"We are a country that has a bitter experience and as such calls for the cessation of all combat activities and of the use of excessive force by all sides in the conflict so that destruction and civilian suffering would end."
The government has stressed that it fully supports Libya territorial integrity and sovereignty but that it also supports the UN Security Council's decisions. Belgrade has suspended all activities with Libya's Defense Ministry but taken no other actions against Tripoli.
Cheering On Qaddafi
Nationalist leaders have gone far beyond Serbia's official ambivalence. They have called for a rally on March 27 in Belgrade to protest the bombing of Libya and, to build support, regularly rail against Operation Odyssey Dawn.
Dragan Todorovic is the head of the parliamentary caucus of the Serbian Radical Party, whose leader Vojislav Seselj is being tried for war crimes in The Hague:
"Qaddafi absolutely has our support and we absolutely think that nonmeddling in one country's affairs has to be respected and that citizens of that country should choose the government that suits them," Todorovic said.
But if this language sounds blunt, it only suggests the kind of anger ultranationalist organizations are stoking among their members.
Numerous pages on Facebook, Twitter, MySpace, YouTube, and other social-networking sites have sprung up over the past weeks to support Qaddafi and link his story to that of the ultranationalists' hero, former Serbian President Slobodan Milosevic.
One of the most active of the Facebook pages, Support for Muammar al-Gaddafi from the People of Serbia, hosts hundreds of messages from people urging Qaddafi to persevere and recalling Serbia's situation 10 years ago.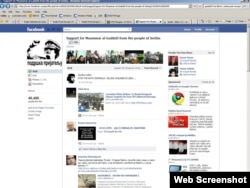 A Serbian Facebook page in support of Muammar Qaddafi
Some of the messages read like greetings cards to Libya's leader: "They should know we are with them! That's how it used to be for us but no one gave us support!"

Remembering 'Target'
But others focus purely on Serbia in 1999: "Target! How I remember running as a child with a couple of friends to the demonstrations, with a paper target fixed to my chest. Does anyone else remember the slogans? I remember a few. 'Only Clinton shoots in the back!', 'Monica, clench your teeth!' does anyone know a few more?"
In 1999, many Serbs took part in demonstrations to protect sites in Belgrade and elsewhere during NATO's March 24-June 10 bombing campaign. The demonstrators wore paper bull's-eyes emblazoned with the word "target."
Traces of the bombing can still be seen throughout Serbia today. In the capital, the Milosevic-era Defense and Interior Ministry buildings still stand in ruins on one of the main avenues.
The Human Rights Watch advocacy group put the civilian death toll of the NATO bombing at around 500. Official Serbian figures say some 2,500 civilians were killed and 12,500 injured during the 11 weeks of bombing.
Welcome In Tripoli
The ultranationalists' pro-Qaddafi campaign has received appreciative attention in Tripoli, where state-run television has broadcast some of the Internet content to show that Qaddafi has supporters in other countries.
A Libyan opposition group called the Libyan Youth Movement advised media this week that Serbian hackers have tried to bring down websites linked to anti-Qaddafi forces.
The Libyan Youth Movement said it estimated there are over 50,000 active Serbian Qaddafi supporters online and suspected "there are powerful nationalist organizations and political parties" behind the movement.
Some Serbian political commentators say the pro-Qaddafi movement is aimed at building support in Serbia against efforts to eventually bring the country into the European Union. Milan Pajevic of the Isak Fund says Serbia needs to carefully weigh its interests.
"There is no difference between the position of Croatia or any other European country and what should be Serbia's position," Pajevic says. "Besides this institutional, formal process of EU integration, Serbia is a European country and should behave in line with and in agreement with its partners."
Old Friends
The fact that ultranationalist Serbs are trying to link their country's bombing over Milosevic's crackdown on Muslim Kosovars with the fate of Libya -- an officially Muslim nation -- might seem a curious way to stoke political anger against the West.
But analysts say that the effort not only plays on memories of NATO's 1999 campaign but also upon decades of officially close ties between the former Yugoslavia and Qaddafi. Both countries were among the founding members of the Nonaligned Movement (NAM), which was established in Belgrade in 1961.
Those ties between Tripoli and Belgrade continued despite the breakup of Yugoslavia. Qaddafi consistently expressed support for Milosevic against the West, particularly during NATO's 1999 bombing campaign, and Serbia kept close ties with Libya in the form of weapons trade and a business presence.
Serbian President Boris Tadic has flown to Tripoli several times since he was first elected in 2004, and has been given state awards by Qaddafi. Several other Serbian officials have also visited Libya in recent years.
Serbia has several times found itself in the news in connection with the Libya crisis, including media reports that Serbs had piloted planes that reportedly bombed protesters in the eastern city of Benghazi. Belgrade has denied those reports, as has Qaddafi.
Qaddafi made the denials in an exclusive interview he gave to the private Serbian television station Pink just hours after the UN Security Council voted in January to impose sanctions against him, his family, and close aides. He told Pink that "the Arab media tried to bribe [the Serbs] to say that they bombed civilians" and also rejected charges his forces had violently suppressed opposition protesters.
The nationalists' embrace of Qaddafi contrasts sharply with the activities of Serbian pro-democracy youth activists who helped train Egypt's antigovernment demonstrators in the nonviolent resistance tactics that helped push President Hosni Mubarak's from power last month.
Nedim Dervisbegovic of RFE/RL's Balkan Service also contributed to this report