Members of the political opposition in Belarus are cautiously welcoming a pledge by the country's authoritarian leader, Alyaksandr Lukashenka, to release all political prisoners in hopes of resuming dialogue with the West.
Lukashenka, who oversaw a brutal crackdown against opposition activists in the wake of his controversial reelection last year, has signaled he is ready to pardon all of his country's political prisoners by mid-October.
Anatol Lyabedzka, the leader of the opposition United Civic Party, was among the hundreds of people detained for participating in protests against Lukashenka's win on December 19. The charges against him and five other activists were suddenly dropped last week. Lyabedzka now says he's confident Lukashenka will see his pledge all the way through and release the nearly 20 opposition protesters -- including three presidential candidates -- who are still in jail.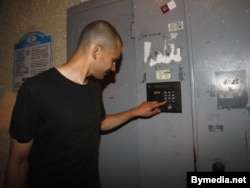 Andrey Protasenya, seen here entering his Minsk home after his overnight release from jail, was a campaigner for opposition presidential candidate Yaroslav Romanchuk in Belarus's December 2010 vote.
"There's evidently no doubt that all people involved in the December 19 affair are going to be released. It's just a matter of time. Lukashenka has stated his desire to return to the relations he had with the EU before December 19. Now the ball is in Brussels' court to form their response to Lukashenka's proposal," Lyabedzka said.
Lukashenka's apparent about-face -- accompanied by the release of four activists today -- came after EU member-state Bulgaria entered talks with the Belarusian leadership with the aim of softening his stance on the political opposition. Speaking at a press conference in Sofia on September 2, Bulgarian Foreign Minister Nikolay Mladenov, who last met with Lukashenka in Minsk on August 26, said it was then that Lukashenka agreed to the proceed with the pardons as well as open talks with the opposition.
"I'm really glad that at this stage, this Bulgarian initiative is bearing fruit. I hope it will continue, and that all [the political prisoners] will leave prison and will live freely in a country where all parties are involved in a civilized and modern dialogue about the future," Mladenov said.
Skyrocketing Prices
Belarus's future, at the moment, appears clouded with economic uncertainty. Lukashenka, who for years was able to provide his people with low-cost comfort thanks to Soviet-style subsidies from Russia, has seen that largesse dry up.
Faced with a collapsing currency and skyrocketing price hikes, Lukashenka may be attempting to quell rising public unrest by seeking support from the West. Observers like opposition politician Alyaksandr Milinkevich say they see a direct connection between Lukashenka's pardon pledge and his mounting economic woes. He says optimistically that Belarus could be on the brink of a period of liberalization.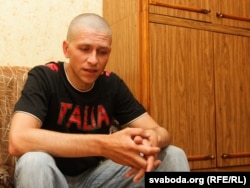 Dzmitry Daronin hours after his unexpected release from prison on September 2
"The West maintained a very moral, tough, and decisive position -- free political prisoners. Only then can dialogue start, and the dialog will be step by step and according to a road map," Milinkevich said.
"The leadership won't want to work according to a road map, but they'll be forced to make concessions toward creating liberalization, both politically and economically. That's good for Belarus, because the process will strengthen our economic independence."
Others inside Belarus say they are taking heart from the fact that the EU appears prepared to pull no punches in its dealings with Belarus. The EU has engaged in an often deflating push-and-pull relationship with Lukashenka, who has alternately sought to accommodate or reject the West, depending on his political mood.
As recently as last year, the EU appeared on the brink of coaxing Belarus into accepting new reforms. Then came the election, crackdowns, and arrests. If and when Lukashenka next sits down for talks with the EU, says political scientist Alyaksey Karol, he may find his seat has gotten much hotter.
"The general trend doesn't change. The West can resume dialogue, but a return to the conditions and basic principles that were being discussed in the run-up to the election campaign is already impossible. With each side there will be a subtext of their own goals," Karol said.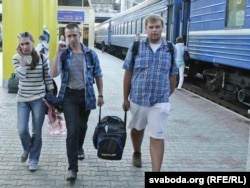 Ales Kirkevich (center) arrives in Minsk after his release from prison on September 2.
"And the West will have its own lack of trust. After 17 years of retractions, false intensions, deceptions, games and tricks, I don't think any of those things will go ignored."
EU foreign ministers are expected to discuss the Belarus situation at a two-day meeting opening in Sopot in northern Poland. EU foreign policy chief Catherine Ashton, speaking just ahead of the start of the talks, stressed the need for Belarus "to make sure that political prisoners are restored to freedom" and to "consider its relationship with the European Union."
Cynicism
Robert Golanski, a spokesman for European Parliament President Jerzy Buzek, on September 2 welcomed the news of Lukashenka's pledge to release all political prisoners, but warned against "premature enthusiasm."
"The president [Buzek] very strongly stands on the position that all political prisoners have to be unconditionally freed and returned to their families and friends. Only then the European Union will be ready to treat Belarus as a serious partner willing to dialogue. Numerous previous declarations by the Belarusian regime proved to be unfounded and unsupported by concrete action. Thus the president's skepticism is entirely justified today," Golanski said.
A degree of cynicism could be heard even among the small group of activists released.
Andrey Protasenya, a campaigner for opposition presidential candidate Yaroslav Romanchuk, had been facing three years in a high-security prison when he was suddenly pardoned on September 1. The news came so quickly, he said, he barely had time to say goodbye to his cell mates.
The newly freed Protasenya welcomed his release but said attention should remain focused on the nearly 20 opposition activists still in jail for their role in the postelection protests.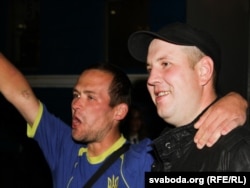 Aleh Hnedchyk, right, after his release from prison on September 1.
"I'm out, but I can't say there's a feeling of intense happiness. Maybe that sensation is there, but it's mixed with the sensation that people are still back there in jail. I feel bad about that," Protasenya said.
A Lukashenka spokesman said the four men released were pardoned because they had "recognized their guilt and the unlawful character of their actions" during the December unrest.
But Aleh Hnedchyk, who was facing four years in a high-security prison before his release, said he refused to acknowledge his guilt and remained uncertain why he was pardoned:
"I wrote down that I didn't acknowledge their version of events. The next day they called me and said they needed me to write it again while they videotaped me. I said I wouldn't do it. They said that in that case I'd continue to stay there. That's how it went. But now, I don't know why. Perhaps when Lukashenka said yesterday that it was time to sit at the negotiating table -- this was probably [a kind of] negotiation, his first step toward that, in my opinion," Hnedchyk said.
The other two activists released today include Dzmitry Daronin and Ales Kirkevich, the deputy chairman of the Young Front opposition group.
written in Prague by Daisy Sindelar with reporting by RFE/RL's Belarus Service in Minsk and Rikard Jozwiak in Brussels