U.S. Criticizes Russia On Missiles To Syria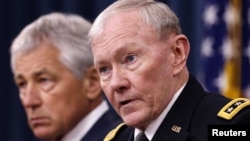 The top U.S. military officer has denounced Russia for providing Syrian President Bashar al-Assad's regime with antiship missiles, saying the weapons will only worsen the Syrian war.
The comments by General Martin Dempsey, chairman of the Joint Chiefs of Staff, came after "The New York Times" reported that Russia recently delivered a shipment to Syria's government of Yakhont antiship cruise missiles equipped with advanced radar.
"It's, at the very least, an unfortunate decision that will embolden the regime and prolong the suffering," Dempsey said. "So, it's ill-timed and very unfortunate."
Reports say the missiles could mark a threat to warships active off Syria in the Mediterranean Sea.
Dempsey said he was worried the Russian shipment could make President Assad feel more secure.
"It pushes the standoff distance a little more, increases risk, but not impossible to overcome," Dempsey said. "What I really worry about is that Assad will decide that, since he's got these [Russian] systems, he's somehow safer."
Speaking at the same press conference, Defense Secretary Chuck Hagel urged Russia to reconsider providing the Syrian government with military aid, saying an arms buildup in the Middle East is "dangerous" and the U.S. and Russia both have an interest in preventing a regional war.
"The escalation of weaponry in the Middle East is dangerous and we are working with our partners in that area, as well as other countries, to make sure that, whatever influence we have, that that doesn't continue," Hagel said. "General Demsey made it very clear that, on the specific areas of the missiles, whatever else is involved with the Russians does not help. It makes it more dangerous."
The United States supports Syria's rebels and has demanded the exit of the Assad regime.
Russia is a longtime ally of the Syrian government and has opposed foreign involvement in the more than two-year-old conflict.
Moscow, a major arms supplier to the government, has said it will continue to fulfill weapons contracts with the regime, even with the conflict raging.
Despite their differences, Washington and Moscow earlier this month agreed to launch a joint effort to convene an international conference aimed at ending the war.
However, no date has yet been agreed for any meeting.
France on May 17 said it would oppose any conference if Iran, an ally of the Syrian regime, was invited.
Russia has said Iran could be a part of any solution to the Syrian war, which is estimated to have left more than 80,000 people dead.
In another development, The United Nations refugee agency said the number of Syrian refugees has now surpassed 1.5 million.
Agency spokesman Dan McNorton added that the actual number of refugees is probably "much higher," since the UN's figures reflect only refugees who have registered with authorities.
McNorton said that conditions have deteriorated rapidly in Syria during the past four months.
The UN says most Syrian refugees have fled to Jordan or Lebanon, each of which has more than 470,000 registered refugees.
Based on reporting by AFP, AP, and Reuters