DUSHANBE -- A leading figure in Tajikistan's Islamic opposition party has been hospitalized after being beaten up on his way to work, RFE/RL's Tajik Service reports.
Hikmatullo Saifullozoda, a member of the Islamic Renaissance Party's (IRP) political council and editor in chief of its newspaper, "Najot," was attacked this morning on his way to the newspaper's office in Dushanbe.
Saifullozoda, an outspoken critic of the government, said he was set upon by two assailants after a third person approached him and attempted to distract him.
He suffered a blow to the skull and severe bruising around his eyes and mouth. He is being treated in a Dushanbe hospital.
The ruling People's Democratic Party described the attack as a "wrongful act."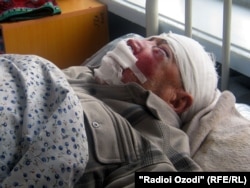 Hikmatullo Saifullozoda suffered a blow to the skull and severe bruising around his eyes and mouth.
Usmon Soleh, head of the party's public relations department, told RFE/RL that the incident was unfortunate, adding that "threatening and using force against someone" is not a solution to issues.
Soleh said law enforcement agencies would deal with the incident.
The IRP leadership said it had called an urgent meeting to discuss the attack, adding that it hoped Saifullozoda's assailants would be brought to justice.
Party deputy head Saidumar Husaini informed the interior minister by phone about the attack, but the party said it had not yet officially asked the authorities to investigate.
Another IRP deputy head, Mukhammadali Haiit, told RFE/RL that the attack was an attempt on Saifullozoda's life. He said Saifullozoda's neighbors had spoken of having seen people following him in recent days.
Saifullozoda is also a political analyst with the Dushanbe think tank Dialog.
Read more in Tajik
here