Tajik authorities will be employing a new tool in their long-running effort to keep tabs on all things religious.
The country's Religious Affairs Committee has announced that, in cooperation with the state-backed Islamic Council, it is compiling a list of some 60 topics deemed suitable for sermons, and will soon distribute the list to imams across the country.
But critics, notably activists from the opposition Islamic Renaissance Party, have condemned the decision, decrying it as an attempt by the state to curtail imams' rising influence and support among their followers, especially the young.
Addressing the controversy, Religious Affairs Committee deputy head Mukhtor Mavlonov said that the endeavor was intended to help promote Islamic values while at the same time lessening the threat of terrorism and extremism in society.
Mavlonov explained that the list of subjects for sermons focused mainly on virtues, such as respect for parents and kindness to neighbors. "They are composed of Islamic teachings on ethics, on how to raise children and teach them honesty, trustworthiness, friendship, and other moral values," Mavlonov said.
WATCH: In August, President Emomali Rahmon warned that foreign religious schools are indoctrinating Tajik students with radical Islamist ideology, and urged parents of madrasah students to bring them home.
The list, expected to be delivered to imams this month, is to be used throughout the year, and imams have been instructed to conduct their sermons in keeping with the recommended topics.
Hamdullo Rahimzoda, imam of Dushanbe's Central Mosque, believes there is no need for such a list. "The topics we choose for sermons have always been about moral values anyway, because Islam is all about ethics and good deeds," he says.
National Hits
Mosque sermons in Tajikistan are conducted once a week, before Friday Prayers, and usually last for an hour. The sermons have become hugely popular in Tajikistan in recent years, and attract thousands of people.
Mullo Abdurahim, the imam of Qazoqon Mosque in Dushanbe, says the number of people attending Friday Prayers in his mosque is much higher than other days, "because they especially come to listen to sermons."
"I don't need any help in choosing topics for homilies," Mullo Abdurahim adds. "Judging by the fact that the mosque fills with people, who arrive an hour early, around noon, I think my sermons are appropriate and acceptable to people."
Sermons often turn into question-and-answer sessions, where people ask the imam's advice on how to resolve their problems, such as marital or inheritance issues.
Some preachers have become so popular that people record their sermons, which make their way to wider audiences in the form of DVDs and CDs sold in the bazaars. Sermons by Eshoni Nuriddin, imam of Turkobod mosque in the Vahdat district outside Dushanbe, and Hoji Mirzo, an imam from the southern Kulob region, have become nationwide hits.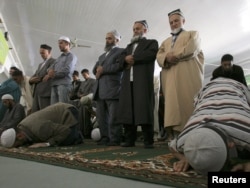 If people fill the mosque for my sermon, one imam says, my topics are acceptable and appropriate.
To the Tajik authorities, however, the two prominent imams may be better-known for occasionally stepping beyond religious and ethical issues to discuss politics. They have become outspoken critics of some government policies, most notably the official ban on the Islamic head scarf in schools and offices.
Hikmatulloh Saifullozoda, an analyst from the Dushanbe-based think tank Dialog, says that the authorities are not keen to see government critics gain more influence.
"Compact discs of some sermons are very well-liked among people. And as you know, these discs were not recorded and distributed by the imams, but by people who liked sermons by Eshoni Nuriddin, Hoji Mirzo, and other prominent imams," Saifullozoda says.
"There is a demand for such products. The authorities don't want these [imams] to gain eminence on a national scale. They want to keep these imams under control, giving them a manual for a 15-minute-long speech with no right to transgress the boundaries."

Risk Of Extremism?
The Tajik authorities have long been criticized for putting pressure on religious and Islamic institutions. At least 10 mosques, including the Ispechak and Qazoqon prayer houses, have been closed down in Dushanbe in recent weeks, with city officials saying they lacked operating licenses.
However, Mullo Davlat Mirzoev, imam of the Ispechak Mosque, claims that officials have for years turned down his efforts to officially register the mosque.
Islamic clothing, including the head scarf commonly worn by women, is banned in schools, while long beards and Islamic hats worn by men are frowned upon.
But government officials reject the criticism, saying the country's citizens enjoy religious freedom.
The country has almost 300 grand mosques and 27 central city mosques.
The authorities recently ordered the return some 1,500 students from foreign madrasahs after the country's president, Emomali Rahmon, warned they run the risk of falling into hands of preachers of terrorism and extremism.
Education officials and the Religious Affairs Committee say the returning students will be tested on their religious knowledge, and depending on the outcome will be placed in domestic, and officially approved, madrasahs or the country's Islamic University.
RFE/RL's Tajik Service correspondents Kayumarsi Ato and Khurshedi Hamdam contributed to this report