Who Is Out To Get Tajikistan's Islamic Party?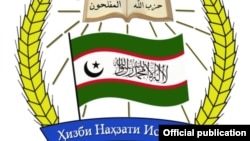 It's only halfway through April and it has already been a tough year for the Islamic Renaissance Party of Tajikistan (IRPT).
State media has been reporting the alleged misadventures of IRPT members, which is not so unusual. But there has been a recent focus on salacious, and in this conservative Muslim country, scandalous sexual misdeeds of IRPT members and an alleged member, which the IRPT says is part of a government campaign to blacken the party's image.
RFE/RL's Tajik Service, Radio Ozodi, has been following the critical reports inside Tajikistan about the IRPT in recent weeks. Ozodi notes in its reports that next February the country holds parliamentary elections, so the recent misfortunes of opposition parties, and any in the coming months, might not be a coincidence.
The most recent PR blow to the IRPT came last week when two different videos were posted on Tajik social-network sites. Each purportedly showed an IRPT member in a sexual encounter, one with a woman, and the other with a young man.
The video allegedly of the IRPT member and woman is certainly an embarrassing indiscretion but there have been similar videos posted in Tajikistan in recent months so the public's sense of shock is not what it once was.
The video of the two men, however, could cause some damage to the IRPT's reputation.
Tajikistan's chief mufti, Saidmukarram Abdulkodirzoda, the state-selected head of Tajikistan's Muslims, said in a Friday sermon in February: "I am ashamed that this topic is to be discussed in the mosque. Unfortunately, I have heard about the homosexual orientation of educated and cultural people, who refused relationships with their wives and women and who commit the sin of sodomy."
These words indicate that for many the second video won't be forgotten very quickly in Tajikistan.
There's more. There's always more.
A voice on the videos claims they were secretly filmed by the IRPT by a sort of behavior-police unit formed by deputy IRPT leader Muhammadali Hait meant to expose immoral conduct by members.
In comments to Ozodi, Hait flatly rejected any such IRPT unit exists and said the videos were likely "produced" by people splicing and altering film at the Interior Ministry.
Hait pointed out the posting of the videos was only the latest in what he and other IRPT leaders say is a state-sponsored campaign to deprive the IRPT of any credibility. And they do have other examples.
On February 7, two state television channels reported an IRPT member in the northern town of Isfara had raped his two stepdaughters and one of them was pregnant as a result. The reports showed the suspect's IRPT membership card.
The IRPT said the suspect, Mahmadullo Kholov, was never an IRPT member and that the serial number of the card shown in the state television reports was for a card belonging to a female IRPT member in Isfara named Aziza Solivaya.
The IRPT said the card was a fake printed by the Interior Ministry.
On February 14, state television reported that IRPT member Bahriddin Muminov was imprisoned after being convicted of traveling to Syria to join the Jabhat al-Nusra group fighting government forces. The IRPT admitted Muminov was a member, but denied sending him to Syria or having any influence over his decision to go there.
The IRPT also complained it was the second time in just over a week state television aired reports connecting the party to crimes committed by an individual. A statement posted on the IRPT website Nahzat.tj on February 17 claimed hypocrisy: "Officials who are members of the ruling party [People's Democratic Party of Tajikistan] also commit crimes. What an injustice that television reports do not disclose their affiliation to the party."
It's a legitimate complaint. Tajikistan ranked 154th out of 177 countries on Transparency International's "Corruption Perception Index" for 2013. Everyone in Tajikistan knows there is plenty of corruption in the government but that, naturally, is not reported by state media.
There has also been what could be described as petty harassment of the IRPT.
In January, when IRPT leaders traveled to the Isfara area to investigate the
death of a member while in prison
and could not find accommodations, a local resident who was also an IRPT member allowed the group to stay at his house. When the IRPT delegation left, local police summoned the man for questioning and told him not to repeat his generosity.
Last November, authorities visited a store owned by an IRPT member in northern Tajikistan's Asht district that was selling school textbooks, language books, and such. State inspectors declared some books had mildew, which is a violation of the law. Other books contained print that was deemed too small. The shop was ordered closed.
This campaign against the IRPT is worrying because elections are coming and unlike Tajikistan's presidential election that incumbent President Emomali Rahmon always wins, opposition parties do have a small chance in elections for parliament. The IRPT has two seats in parliament now.
But this smear campaign is more concerning because the IRPT has become a relatively moderate Islamic party since the days of the 1992-97 civil war when its forces battled the government. Harassing IRPT members and seeking to tarnish the party's reputation plays into the hands of more radical Islamic groups.
The IRPT is not just the sole officially registered Islamic party in Tajikistan; it is the only officially registered Islamic party in all of Central Asia, a region ruled by officials who grew up in the officially atheist Soviet Union.
Central Asia is the land of Islam and has been for more than 1,000 years and future governments in the region are going to have to strike a balance with the religion, its leaders, and its adherents.
Hounding the IRPT serves no good purpose. The party is not strong enough to challenge the current regime but it does provide an outlet for those who see a need for Islam to play a greater role in the politics of Tajikistan.
-- Bruce Pannier with contributions from Mirzo Salimov of RFE/RL's Tajik Service and Farangiz Najibullah
About This Blog
Qishloq Ovozi is a blog by RFE/RL Central Asia specialist Bruce Pannier that aims to look at the events that are shaping Central Asia and its respective countries, connect some of the dots to shed light on why those processes are occurring, and identify the agents of change. Content will draw on the extensive knowledge and contacts of RFE/RL's Central Asian services but also allow scholars in the West, particularly younger scholars who will be tomorrow's experts on the region, opportunities to share their views on the evolving situation at this Eurasian crossroad. The name means "Village Voice" in Uzbek. But don't be fooled, Qishloq Ovozi is about all of Central Asia.
Latest Podcasts