Russians Erupt After Texas Officials Rule Adopted Russian Boy's Death 'Accidental'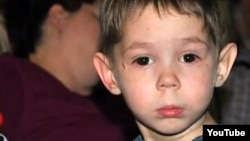 Officials in the U.S. state of Texas have ruled that the death of 3-year-old Russian-born adoptee Max Shatto was accidental.
The determination has sparked anger and skepticism in Russia, where officials have stoked speculation that Max, born Maksim Kuzmin, was the victim of foul play.
Ector County District Attorney Bobby Bland said on March 1 that four doctors who reviewed the boy's autopsy agreed Shatto's death was "the result of an accident."
His death has caused a furor in Russia, where officials recently backed a ban on adoptions by U.S. parents and quickly accused the child's mother, Laura, of drugging and "murdering" him.
Russian officials have cited the case as they dismiss criticism of Moscow's politically charged ban on U.S. adoptions, which
was a response
to U.S. legislation punishing Russia for perceived rights abuses in the Magnitsky Rule of Law Accountability Act.
After news of the Texas finding emerged, the Russian Foreign Ministry's commissioner for human rights, democracy and rule of law, Konstantin Dolgov, said he considered the results of the autopsy incomplete. He demanded that U.S. officials provide Russia with the necessary documents to study the case.
"Unfortunately, we state with regret that we once again received the information about the death of [Max Shatto] not from official representatives of the U.S. but from the media," Dolgov said.
Russian police said some 12,000 people turned out after pro-Kremlin activists
organized a march in Moscow
on March 2, calling on authorities to ban all foreign adoptions and demanding the return of Max's biological brother, Kristopher, to Russia.
Irina Bergset, coordinator of the movement Russian Mothers, told media ahead of the event that the demonstrators also would be demanding a "more thorough investigation" into Shatto's death.
From Ector County, Bland said that preliminary autopsy results had indicated Max had bruises on several parts of his body and that the bruises appeared to be self-inflicted. He also said no drugs were found in the boy's system.
"We got the autopsy results and it was found, based on the examination of the doctors that did the autopsy, as well as [another] doctor we consulted, that the manner of death for this child, Max Shatto, was accidental," Bland said.
Bland told RFE/RL that Shatto died from a "lacerated artery" due to blunt force trauma in his abdomen.
He said the child suffered from a behavioral disorder and that the wound to his abdomen would be consistent with those suffered by children who injure themselves by accidents or in scuffles with other people.
Bland said the finding did not rule out that there could be charges filed in the case.
Shatto, born Maksim Kuzmin, allegedly collapsed outside his family's home in rural Gardendale, Texas on January 21. He died later the same day at a nearby hospital.
The Texas-based Gladney Center, which facilitated the adoption, said in a statement it was "pleased" that the investigation had not indicated any wrongdoing on its part.
The Russian consul-general in Houston, Aleksandr Zakharov, initially said he wanted to see the official report from authorities before commenting.
Reporting from Washington by RFE/RL correspondent Richard Solash; additional reporting by AP, AFP, and Interfax