Ukraine Deputy PM Says Kyiv Will Sign EU Deal 'Soon'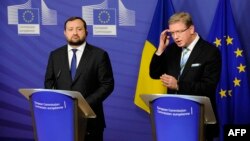 BRUSSELS -- Ukrainian Deputy Prime Minister Serhiy Arbuzov has said that Kyiv will sign an Association Agreement with the European Union "soon."
Arbuzov made his comments after meeting with EU Enlargement Commissioner Stefan Fuele in Brussels on December 12, with a mass protest still raging in the streets of Kyiv over the Ukrainian government's decision to walk away from the EU negotiations last month.
Arbuzov added that Brussels and Kyiv officials had some "trade issues" to discuss before the agreement could be signed.
Both Arbuzov and Fuele said that the EU and Ukraine would prepare a road map for the implementation of signing an Association Agreement, that the EU would assist Ukraine in reaching an agreement with the International Monetary Fund (IMF) for financial assistance, and that bilateral consultations between the two sides will continue.
"The Cabinet of Ministers executes the tasks that have been set by the president to create conditions for signing the Association Agreement," Arbuzov said. "We have agreed to launch a high-level dialogue for the coordination of the preparatory work for the signing and implementation of the Association Agreement. In the coming days we will define the tasks for both sides and the schedule of their implementation."
He added an assurance clearly aimed at placating the "Euromaidan" protest movement that has demanded new presidential and parliamentary elections over the EU snub by President Viktor Yanukovych and his political allies.
"I assure the Ukrainian people: The negotiations continue. Soon Ukraine will come to the historic moment of signing the Association Agreement, taking into account strategic national interests," Arbuzov said.
EU foreign policy chief Catherine Ashton had said earlier on December 12 that Yanukovych told her he still "intends to sign" the key trade and cooperation deal.
Ashton spoke to RFE/RL in Brussels after returning from two days of talks with Yanukovych in Kyiv on December 10-11.
She said the economic concerns mentioned by Yanukovych during their meetings could be alleviated by signing the Association Agreement, which will bring in fresh investment.
"[President] Yanukovych made it clear to me that he intends to sign the Association Agreement," Ashton told RFE/RL. "What he talked about were the short-term economic issues that the country faces, and it is my view that those challenges, which are real, can be addressed by the support that not only comes from the European Union institutions but actually by showing that he has a serious economic plan. And signing the Association Agreement also will help bring in the kind of investment that he needs."
Ukrainian Prime Minister Mykola Azarov told a government meeting on December 11 in televised remarks that Ukraine would like to secure 20 billion euros ($27.5 billion) in EU funding before it signed the association pact with the 28-country bloc.
Protests Continue
Protesters see Yanukovych's refusal to sign the deal as proof of pressure on Kyiv from Moscow, which would like Ukraine to join the Russian-led Customs Union.
Russian President Vladimir Putin used a state-of-the-nation address to highlight the economic benefits for Ukraine if it joins that union.
Putin, however, said it is Kyiv alone that will decide whether or not to join the union.
Thousands of demonstrators continue to occupy sites in central Kyiv after an aborted attempt by riot police to clear the streets early on December 11.
Protesters overnight fortified their positions in Independence Square, filling plastic sacks with snow which they used as sandbags, as well as pouring water over the barricades in sub-zero temperatures.
More than 1,000 people marched to the Prosecutor-General's Office in Kyiv on December 12 to demand the release of detained demonstrators, whose exact numbers remain unknown.
"I said it many times that the only possible way forward is the way of reconciliation and understanding," Yanukovych said on December 11. "Actions of all sides should take place exclusively within the framework of the law and Ukraine's constitution. I'm calling on representatives of all political forces, reverend fathers, civil society representatives, to an overall national dialogue. I'm personally ready to take part in such a roundtable."
'National Dialogue'
Ukrainian opposition leaders have rejected the president's offer of "national dialogue" and insisted on the government's resignation.
"On the one hand the president says he wants to sit at the roundtable, but on the other hand he sends out the police to disperse the people and it is contrary to all proposals," Vitali Klitschko, one of the leaders of the opposition, told a news conference in Kyiv on December 12. "Our demands have not changed, I want to say it again."
The European Parliament called on December 12 for a delegation of lawmakers to visit Ukraine and declared its solidarity with the protesters, condemning the use of force as "brutal and unacceptable."
U.S.-based group Human Rights Watch (HRW) has issued a statement calling on Ukrainian authorities to refrain from excessive force and on protesters to abstain from acts of violence.
The U.S. State Department, meanwhile, said sanctions against Ukraine's government are an option in case of a violent response by Ukrainian authorities to the protests.
State Department spokeswoman Jen Psaki said that Washington has been discussing a possible response with European leaders and the International Monetary Fund (IMF).
"Getting back into a conversation with Europe and with the IMF and bringing, of course, justice and dignity to the people of Ukraine, is what our strong message was on the ground," Psaki said. "All policy options including sanctions are on the table, in our view, but obviously, that is still being evaluated."
The Pentagon, meanwhile, said Ukrainian Defense Minister Pavlo Lebedev had told U.S. Defense Secretary Chuck Hagel that no Ukrainian armed forces would be used against demonstrators.
Based on reporting by RFE/RL Brussels correspondent Rikard Jozwiak, RFE/RL's Ukrainian Service, AFP, Reuters, and dpa