KYIV -- The widow of slain Ukrainian journalist Heorhiy Gongadze has called for the trial of the main suspect in her husband's murder to be opened to the public, RFE/RL's Ukrainian Service reports.
Myroslava Gongadze told RFE/RL the trial of Oleksiy Pukach should be open so that her husband's colleagues and Ukrainian society can learn the truth about what happened more than 10 years ago.
Former Interior Ministry official Pukach is on trial for the murder of investigative journalist Gongadze, whose headless body was found in late 2000.
Myroslava Gongadze said Ukrainian society had the right to know "what kind of criminals" used to govern the country,
She also said her rights as a victim in the case were violated, as the trial is being held behind closed doors.
She told RFE/RL that she planned to appeal to the European Court of Human Rights in Strasbourg to insist on an open trial for those suspected of killing her husband.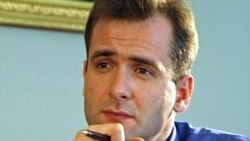 Heorhiy Gongadze was a vocal critic of then-President Leonid Kuchma.
Pukach said in court this week that former President Leonid Kuchma, his former chief of staff Volodymyr Lytvyn (currently parliament speaker), and former Interior Minister Yuriy Kravchenko ordered the killing.
Gongadze said those statements did not reveal anything new and that all the people named by Pukach had been identified earlier as possibly having been involved in the murder.
But she said everyone named by Pukach should be called on to testify in order "to prove his innocence."
"Neither Pukach nor Kravchenko had any personal motives to kill my husband, it is clear that they followed orders. And the two generals could follow only the orders of the Interior Ministry, security officials, or some other top officials, that is clear," Gongadze said.
She added that although the case had lasted for 10 years, the fact that a former high-ranking police official had been brought to trial and other senior officials had been identified as suspects constituted "progress."
Kuchma, president from 1994 to 2005, was charged earlier this year with exceeding his authority by undertaking actions that led to Gongadze's killing.
Kravchenko was found dead in his summer house near Kyiv on March 4, 2005. The official cause of death was said to be suicide, a ruling that many people questioned.
Myroslava Gongadze's lawyer, Valentyna Telychenko, told RFE/RL on August 31 that Pukach's statements in court this week could not be taken seriously as "the information he gives can be an absolute lie."
Read more in Ukrainian here